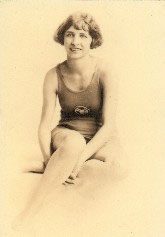 Sybil Bauer (USA)
Honor Swimmer (1967)
The information on this page was written the year of their induction.
FOR THE RECORD: OLYMPIC GAMES: 1924 gold (100m backstroke); NATIONAL AAU CHAMPIONSHIPS: 1921-1926 (100yd backstroke); NATIONAL CHAMPIONSHIPS: 100m, 150yd, 220yd backstroke; freestyle relay. At one time held all existing backstroke records for women; she held 8 national and world records at the time of her death, age 22.
One of the great shocks in sport was the death of Sybil Bauer from cancer right at the top of her undefeated swimming career at the early age of 22. She had been the personification of the best that is feminine in an athlete, the sweetheart of the sports world. Her fiancé, Ed Sullivan, was at her bedside when she died, and her pall bearers were six famous swimmers — Johnny Weissmuller, Bob Skelton, Hugo Miller, Weston Kimball, Ralph Breyer and Dick Howell. Quoting her obituary in the magazine for the Illinois Athletic Club: "Sybil's early passing is saddening beyond human expression; but had she lived a hundred years, she could hardly have added anything important to her glorious athletic career, nor strengthened her hold upon the hearts of all who knew her. She was champion of women swimmers, the greatest of all in her field, and as such she will always be remembered."
And as such she is now remembered in the Swimming Hall of Fame.
Sybil Bauer was the world's first great backstroker. She won six successive National AAU 100 yd. backstroke crowns from 1921 through 1926, won nationals in 100 meter, 150 yard, 220 yard backstroke and was part of a world record and national champion freestyle relay. At one time she held all existing backstroke records for women. She held 8 national and world records at the time of her death, which was perhaps started by a fall from a touring car in a victory parade after her last championship in St. Augustine, Florida.
During her tragically shortened swimming career, she improved world records 23 times, including successive world records in winning first her trial and then the finals as 1924 Olympic champion.
Sybil Bauer was a great athlete at Northwestern University in basketball and field hockey as well as swimming. She was also president of the Women's Athletic Association and a member of the student council. She died in her senior year. With teammate Ethel Lackie, Sybil Bauer gave Hall of Fame coach Bill Bachrach, the genius of the IAC, a 2-girl women's team to rival his all winning men's teams.
On a trip to Bermuda in 1922, Miss Bauer had the distinction of being the first woman in the world to break an existing men's world record — Stubby Kruger's 440-yard backstroke standard — which she lowered by 4 seconds to 6:24. In spite of beating a men's record, no swimmer was ever more gentle, nor more feminine. Certainly Sybil Bauer demonstrated as no one else ever has, that swimming achievement depends on grace, skill and relaxation and not brute strength. While her tragic illness was exploited nationally by those opposing vigorous athletic competition for women, her life had contradicted their claims. She was Exhibit A of the grace and beauty of women in sport, and her determination and strength nurtured in swimming made her optimistic about recovery to the end. It was the only major race she ever lost.
Her honoree plaque is received for her by her younger sister, Dorothy, now Mrs. John Erland. Ed Sullivan has been asked to do the pick-up phone recording that will accompany her picture in the Swim Hall's "Wall of Honor."