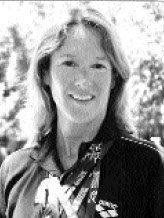 Suzanne Heim Bowen (USA)
Honor Masters Swimmer (2007)
The information on this page was written the year of their induction.
INTERNATIONAL HIGHLIGHTS: Open Water Swimming: 1996 FINA Masters World Championships: silver (3k); 2002, 2004 FINA Masters World Championships: gold (3k); 15 Masters US National Championships: 8 (1 hour postal), 4 (5k postal), 1 (10k postal), 1 (15k), 1 (1 mile);
This is Not your average swimmer! She just keeps going…
Introduced to the water as a baby with the Mommy & Me classes held at the local YMCA, as a youngster she swam summer league and competed in AAU competitions. At 14, she quit swimming to play boys water polo. She helped start the Women's Swim Team at Cal Poly.
Many swimmers spend their youth focusing on pool swims and later turn to open water swims. It was the opposite for Suzanne Heim Bomen. At 19, she teamed up with the San Francisco Dolphin Club competing in open water swims around the world. Some of these swims include 3 crossings of the English Channel, Lake Geneva, 17 swims in San Francisco Bay waters — many of her records have yet to be broken. In Masters open water events she has 29 age group first place finishes.
Watch out for her — Suzanne jokes that the 50 free is her favorite event! Returning to the pool, she has accumulated over 23 Masters World Records in freestyle events ranging from 100m to 1500m. Suzanne illustrates her breadth of successful swims in any body of water, any distance.
She is a lifelong swimmer who is often inspired by the "old timers" who haven'tmissed a day of swimming in 25 years. Undoubtedly, Suzanne inspires a fewherself –maintaining a relentless attitude, setting newboundaries, and literally, newhorizons — she just keeps going.