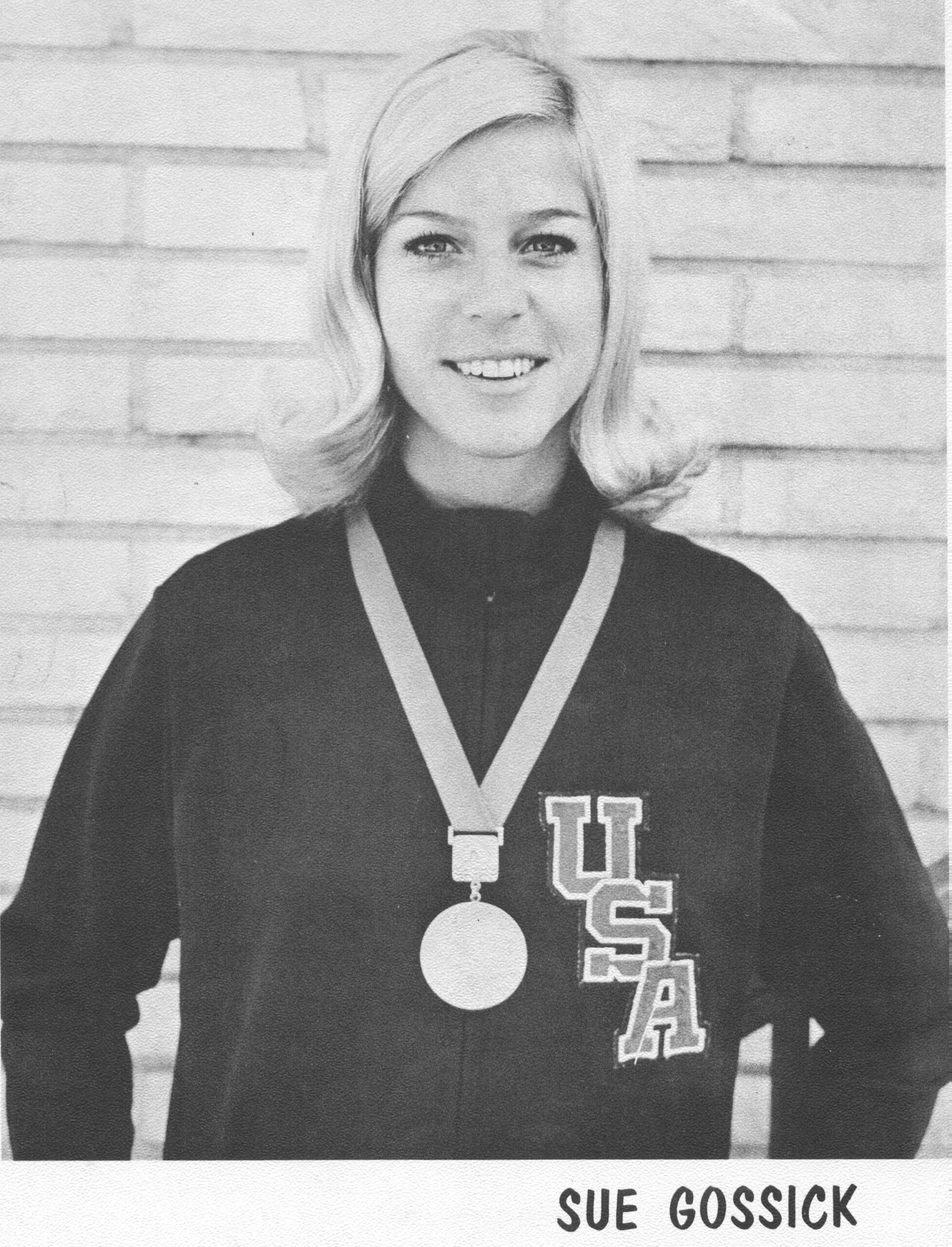 Sue Gossick (USA)
Honor Diver (1988)
The information on this page was written the year of their induction.
FOR THE RECORD: OLYMPIC GAMES: 1964 4th place (springboard); 1968 gold (springboard); PAN AMERICAN GAMES: 1967 gold (springboard); AAU NATIONAL CHAMPIONSHIPS: 5 (springboard); 1966, 1968 WORLD DIVER (springboard); 1967 Los Angeles Times "Woman of the Year"; Women's Southern Pacific Association Springboard Diver of the Year: 1964-1968.
By the time Sue Gossick came along as a member of the 1964 and 1968 Olympic teams, Southern California diving had gone into a partial eclipse. She and her coach Lyle Draves proved it was a short eclipse. She was a medalist in 21 of 24 national springboard diving championships she entered beginning in 1962. Sue Gossick was coached early on by her father Dr. Gustav Gossick.
Placing fourth in the 1964 Games at Tokyo, Gossick won the 1966 pre-Olympics against the world's best at Mexico City but almost didn't make the team when she hit her hand on the board during the U.S. Olympic trials in 1968. Despite a back injury, which had kept her out of the pool for five weeks, she made it to the 1968 trials and finals and took the gold — thanks to treatments from the team doctor of the Los Angeles Rams.
At age nine, Miss Gossick was singled out by the U.S. Olympic Development Committee in 1957 as a "future Olympic champion" and 11 years later she made believers of them and their brash projection. In between, she won the U.S. Nationals five times, a gold medal in the 1967 Pan American Games and was the Southern Pacific AAU's Springboard Diver of the Year four times. She won world diving first place ratings in 1966 and 1968. After she won the gold at the Mexico City Olympics at age 20, she was honored as the youngest ever "Woman of the Year" by the Los Angeles Times.