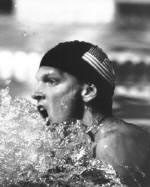 Steve Lundquist (USA)
Honor Swimmer (1990)
The information on this page was written the year of their induction.
FOR THE RECORD: OLYMPIC GAMES: 1984 gold (100m breaststroke; relay); U.S. NATIONALS: 14 (100yd, 200yd, 100m, 200m breaststroke; 200yd, 200m individual medley); NCAA CHAMPIONSHIPS: 7 (100yd, 200yd breaststroke; 200yd individual medley); WORLD RECORDS: 9 (100m breaststroke; 200m individual medley; relays); PAN AMERICAN GAMES: 1979 gold (100m, 200m breaststroke; 1 relay); 1983 gold (100m, 200m breaststroke), bronze (200m individual medley; 1 relay); AMERICAN RECORD holder: (100yd, 200yd breaststroke); 1981, 1982 U.S. Swimmer of the Year; First swimmer in the world to break 2 minute barrier in the 200yd breaststroke.
"Lunk" the other swimmers called him except for the late Victor Davis who called him "the intimidator." "It takes one to know one," was Steve Lundquist's reply. He was and is the golden boy of swimming, going right from the pool, medaling to modeling and a featured part on the afternoon "soap" "Search for Tomorrow". He may have been a hot dog in the same sense as Johnny Weissmuller and Buster Crabbe. Steve was the first man in the world to break two minutes for the 200 yard breaststroke. "Lundquist can swim and win anything he wants to train for," said Hall of Fame Honor Coach Walt Schlueter. He was almost as brilliant in the freestyle sprints and butterfly as he was in his breaststroke specialty. Steve was an honorary member of the 1980 Olympic Team. Unfortunately since the U.S. did not attend, Steve's 100 meter breaststroke time, even though it was faster than the winning time, did not garnish him an Olympic gold. All totaled, he won two Olympic gold medals, set nine world records, won 14 U.S. Nationals, seven NCAA crowns and six gold medals in the Pan American Games. As an athlete in football, track, wrestling, water and snow skiing, tennis and especially swimming, he self-destructed on motorcycles and in dormitory wrestling matches, but that was only between races. In the pool he was always awesome. "Swimming World" magazine picked him as 1981 and 1982 World Swimmer of the Year. To all of this, Weissmuller and Crabbe might add, "Yes, old Steve is a pretty fair country swimmer." The "country is Lake Spivey of Jonesboro, Georgia, USA where the Lunk was born in 1961.