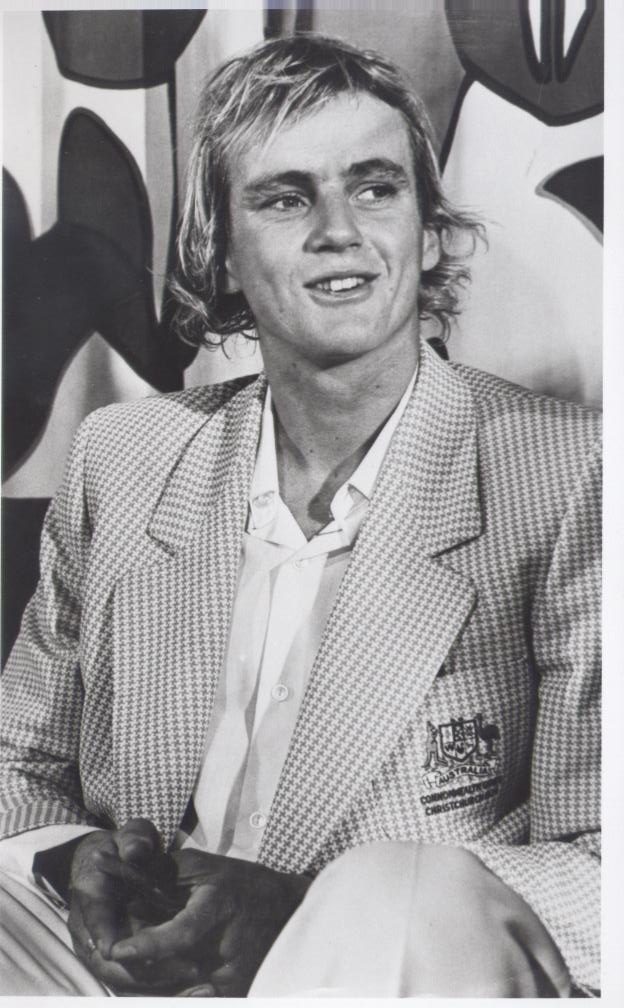 Steve Holland (AUS)
Honor Swimmer (1989)
The information on this page was written the year of their induction.
FOR THE RECORD: OLYMPIC GAMES: 1976 bronze (1500m freestyle); WORLD RECORDS: 11 (800m, 1500m freestyle); WORLD CHAMPIONSHIPS: 1973 gold (1500m freestyle); australian records: 5 (400m, 1500m freestyle); COMMONWEALTH GAMES: 1974 gold (1500m freestyle).
Most of the World had to wait until the first World Championships at Belgrade, Yugoslavia in September 1973 to see if the Australian wonder boy was for real. At age 15, Steve "Toothpick" Holland looked much younger, particularly when lined up beside Olympic medal winners Big John Kinsella, USA, Rick DeMont, USA, and his countryman Brad Cooper. Less than a year before, all these bigger men had won gold medals at the 1973 Munich Olympics. Holland, Five feet tall and weighing 9 stones 6 pounds had broken Mike Burton's World and Olympic record by 15 seconds in the Australian Championships the month before but this was his first international competition.
The world waited to see if this wonder kid could do it against the best. He did, breaking his own world record by six more seconds. On the way to this amazing swim, Holland also broke the world record for 800 meters and kept swimming after the end to break the mile record. He had also broken the half mile as well as the 1000 meters. While the last three distances are not FINA-recognized world records, he nevertheless swam the world's fastest times in five distances. His reason for swimming more than the 1500 meters was not intentional. FINA had installed a horn instead of the gun and Holland did not hear the "gun lap" signal. He swam more than 100 yards too far and seemed like he could go forever. "Swimming World" called it the most supreme exhibition of a "will-to-win" ever seen in swimming.
Steve Holland again broke the world 1500 meter record in Christchurch, New Zealand at the Commonwealth Games with the Queen watching. Holland's greatest triumph came when he went on to own the 800 meters (half mile) breaking his own record six more times. He held a total of 11 FINA world records with his high turn over, two beat kick. His age, his size, his style and his fast rise to prominence made Steve Holland the most exciting swimmer of his brief era.