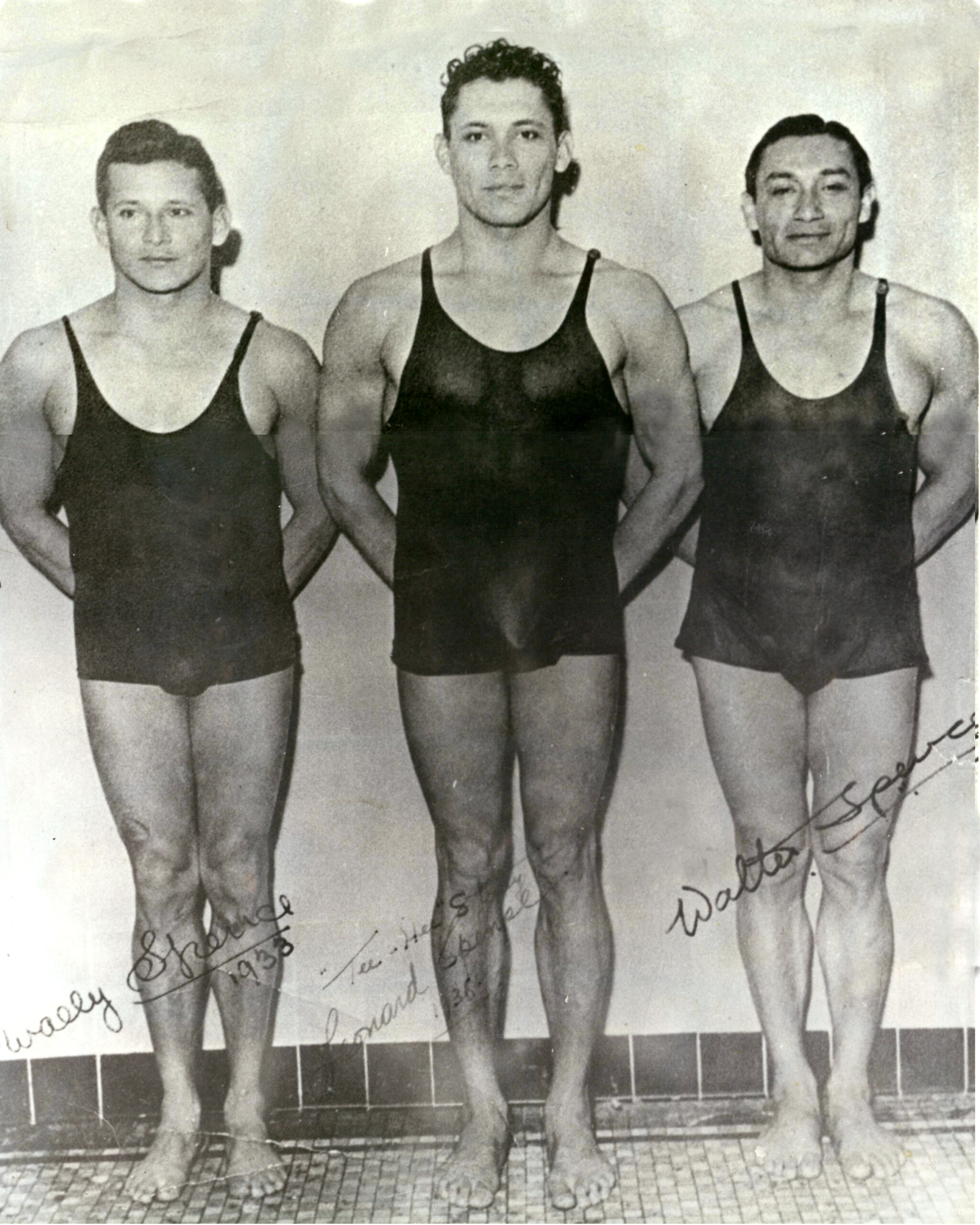 Spence Brothers: Walter, Leonard, Wallace (GUI)
Honor Swimmer (1967)
The information on this page was written the year of their induction.
FOR THE RECORD: Walter, Leonard, and Wallace Spence (1967) Swimmers, British Guiana
Walter: OLYMPIC GAMES: 1928 (swimming for Canada) bronze (4x200m freestyle relay ), 6th (100m freestyle; 200m breaststroke); 1932 (swimming for Canada) 4th (4x200m freestyle relay); WORLD RECORDS: breaststroke; backstroke; 3-stroke medley; NATIONAL AAU CHAMPIONSHIPS: freestyle (all distances up to 4 miles); breaststroke; 150yd, 300yd 3-stroke individual medley; 3-stroke medley relay; freestyle relay.
Leonard: OLYMPIC GAMES: 1936 (swimming for Bermuda – team captain); NATIONAL AAU CHAMPIONSHIPS: breaststroke (from 100yd to 1 mile); 3-stroke individual medley; 3-stroke medley relay; 400yd freestyle relay; NATIONAL AAU RECORDS: breaststroke (from 100yd to 1 mile);
Wallace: NATIONAL AAU CHAMPIONSHIPS: 3-stroke individual medley; 3-stroke medley relay.
The Spence Brothers were the only brother combo ever to win a national AAU relay crown (1933).
Six of the 10 Spences, including Wallace, sole survivor of the 3 Spence Brothers honored in the Swimming Hall of Fame, carry scars from piranha bites. Piranha in the Demerara gave the Spences a very early incentive for swimming fast– an interest that later led to world records, Olympic Games, and U.S. national championships for all 3 older brothers. They did their Olympic swimming for Bermuda and Canada in 3 Olympics, since British Guiana had no team.
The Spence Brothers' father was a Scotsman, a big game hunter and guide, perhaps the best in British Guiana. Their mother was a beautiful Indian and they were born in a jungle near Christianburg. They had 4 sisters, 2 of whom became swim champions although not of the caliber of world record holders, Walter, Wallace and Leonard. A younger brother, Harold, was being coached by his brothers who expected him to be "the fastest Spence ever" until his swimming was interrupted by early World War II service as a navigator in the RAF. Harold was killed in action.
After he had beaten all comers in British Guiana, oldest son Walter went to Trinidad, where his first-ever defeat in freestyle (to a West Indian from Chicago) convinced him he needed U.S. training. At age 22, Walter shipped out to the States to continue his swimming career with the Brooklyn YMCA. That was in 1923, and Walter was in immediate success in breaststroke and the 3 stroke medley. By 1925 he won high point honors at the U.S. National AAU championships in San Francisco, and held ten world records. Ten years later, at age 34, he was NCAA high point man for Rutgers and incidentally, the oldest intercollegiate swim champion ever.
In 1926, Walter sent for Wallace, 6 years his junior–and in 1928, Leonard, 2 years younger than Wallace–thus setting up swimming's only brother combo ever to win a national AAU relay crown (1933). Later they broke the world record by 5 seconds in an exhibition at Rutgers with Wally on backstroke, Leonard on breast, and Walter on crawl. They joined with Peter Fick to win the four-man National AAU 400 yard freestyle relay in 1935.
With Walter able to turn the backstroke and individual medley over to Wally, and the breaststroke to Leonard, he concentrated on being the world's oldest and at times, best, freestyler in all distances up to four miles.
In New York State and Metropolitan breaststroke, the Spence's took turns winning all races for 13 years. They monopolized National AAU indoor breaststroke for 11 years. At one time, Leonard held every breaststroke record from 100 yards to the mile and frequently was second to Walter in freestyle. Leonard won so many national breaststroke titles that it can be suggested that he had more than any other swimmer to do with developing the overarm butterfly. Everyone else was working on it as the only way to beat the Spence's. Johnny Higgins accomplished this first in 1936 after Walter had won the breaststroke nationals from 1925 through 1929 and Leonard from 1931 through 1935. Leonard contracted tuberculosis in 1931, and didn't fully realize it until he went into the sanatorium in 1937.
In 1933, before turning pro, Wallace won both the 150 and 300 yard three-stroke (back, breast, crawl) individual medley titles. The Spence's owned this event indoors like they did the breaststroke, Walter winning in 1925, 1927, 1929; Wally in 1933; and Leonard in 1934 and 1935. "New York Times"' John Kieran became so confused, he wrote two columns on which Spence brother did what. He said they all looked alike, and were there really 3, or just 1 superstar with aliases?
The Spence Brothers are the first brother act and the first team ever elected to the Hall of Fame, this latest swimming honor coming with only Wally left to receive it–10 years after brother Walter was killed trying to catch a train, and 20 years since Leonard died.