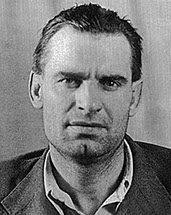 Simeon Boychenko (UKR)
Honor Pioneer Swimmer (2016)
The information on this page was written the year of their induction.
FOR THE RECORD: 1936 unofficial World Record: 100m breaststroke using the butterfly arm stroke
Simeon Boychenko was a real-life sports idol to the Russian people in the pre-World War II era. Some thought he might become as famous as the American superstar, "Tarzan," Johnny Weissmuller, but Simeon Boychenko had his own story to write. He was born in 1912 and grew up in the small village of Marievka in the Ukraine, on the Ingul River, where he spent a lot of time swimming as a child.
As Boychenko grew older, he went into the service, where swimming was a must and everyone was impressed with his abilities in the water. At the start of the Soviet Union, all things that were seen as tools of capitalism were renounced; including competitive sports. By the early 1930s, the Soviet Union began to see sport as a means to display Soviet power to the world, as well as to their own people. Within a short time, Boychenko was unbeatable in the Red Fleet and in the summer of 1934, he became the winner of the Soviet Army's Championship. In 1935, he was transferred to Moscow to continue his military service and it was there that he joined his first real team and got his first real coach.
Back in the 1930's, an acceptable variant of the classic breaststroke was to swim using an above water butterfly arm stroke. This was how Boychenko swam and leading up to the Berlin Olympic Games, his times were seconds faster in both the 100 and 200-meter breaststroke than the listed world records. Since the Soviet Union refused to join the International Olympic Committee, Boychenko's records were never recognized by FINA – but that didn't matter to the Soviets. In Moscow, Boychenko was feted like a national hero and Joseph Stalin held him up as an example to young Soviets: "A former Black Sea sailor," he said, "comrade Boychenko became an unsurpassed swimmer of world-class. Follow example of Boychenko! Break records in the water!"
At the peak of his sporting career in 1941, Boychenko's time of 1:05.4 in 100-meter was almost two seconds faster than the FINA world record of 1:07.3, set by America's Dick Hough. In the 200, his time of 2:29.8 was more than seven seconds faster than Jack Kasley's listed world record of 2:37.2.
During the war, instead of being sent to the front, he, like American swimming star Adolph Kiefer, was commissioned to train and prepare thousands of Soviet soldiers to be strong, able bodied swimmers.
After the war ended, Simeon Boychenko was accused of impartial comments against Stalin's son, Vasily, and having criminal relations with white Russian emigrants and bourgeois. He was sentenced to a ten year detention in Siberia, but he never lost his love of swimming. As soon as he was released he went back to his hometown and took a swim in his beloved Ingul River, to try and wash off the years of torture and humiliation.
A few years after Stalin's death, Simeon returned to the pool in Moscow where he worked as both a coach and referee.
Because of politics, Simeon Boychenko, the "King of the Butterfly," never got to swim against the Americans or in the Olympic Games, but with this honor he finally receives the international recognition he rightfully deserves.