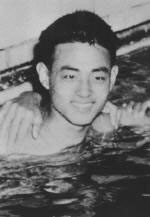 Shiro Hashizume (JPN)
Honor Swimmer (1992)
The information on this page was written the year of their induction.
FOR THE RECORD: OLYMPIC GAMES: 1952 silver (1500m freestyle); WORLD RECORDS: 2 (800m freestyle, 1500m freestyle); WORLD RECORDS: 2 (relays).
Born in 1928, Shiro Hashizume of Japan should have been at his peak for the 1948 Olympics in London, but Japan was not yet permitted back into the Olympic Family of Nations following the end of World War II. Shiro had to settle for breaking the world record at a time when he may also have won the Olympic Gold medal. At the time the world assembled in London for the fifteenth Olympiad, Japan held its own national championships of Olympic events. Hashizume swam the 1500-meter freestyle in 18 minutes, 37.8 seconds, faster than Jimmy McLane's 19 minutes, 18.5 seconds gold medal swim halfway around the world in London.
Hashizume and Hall of Famer Hironoshin Furuhashi flip-flopped world records in the 1500-meter and 800-meter freestyles for the next three years. In 1949 at the American Swimming Championships held in Los Angeles, Hashizume set world records in the 800-meter freestyle (9 minutes, 45 seconds) and the 1500-meter freestyle (18 minutes, 32.6 seconds).
In the preliminary heat of the 1952 Helsinki Olympics, Hashizume established a new Olympic record of 18 minutes, 41 seconds to win the silver medal in the 1500-meter freestyle behind the USA's Ford Konno.
More recently, in 1987, Hashizume, a 1951 graduate from Nihon University Faculty of Law, was awarded Japan's prestigious Order of the Purple Ribbon "Shiju Hosho," an order for a person meritorious in the field of art and science. He is a member of the Board of Education in Yokohama City and Managing Director of the Hashizume Swimming School.