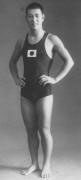 Shiego Arai (JPN)
Honor Pioneer Swimmer (1997)
The information on this page was written the year of their induction.
FOR THE RECORD: 1936 OLYMPIC GAMES: gold (4x200m freestyle relay), bronze (100m freestyle); ONE WORLD RECORD: 4x100m freestyle relay; NATIONAL CHAMPIONSHIPS (7): 100m freestyle, 200m freestyle.
During the decade of the 1930s, Japan was the country to beat. She had great depth of swimmers in all events, and in the 1932 Los Angeles Games, the men's team won all the swimming events except one, the 400m freestyle. At the 1936 Berlin Olympics, all eyes were focused to see if the Japanese team could repeat its performance of four years earlier.
At the 1935 Japan vs. USA Duel Meet, USA's Peter Fick had managed to beat Japan's Masanori Yusa and Shigeo Arai in the 100m freestyle. The 800m freestyle relay was a one, two finish – USA, Japan. The stage was set for the Olympic year to follow.
Japan had six swimmers all under 59 seconds for the 100m freestyle. At Berlin, the three fastest swam in the heats – seven heats with two in each heat to qualify for the finals. During the fourth heat, Shigeo Arai broke the Olympic Record with a time of 57.7 seconds. In the semi-final race, his teammate and Pioneer Hall of Famer Masanori Yusa reset the Olympic record at 57.5 seconds. Japan had all three of their competitors in the finals. It was a very close race with Arai winning the bronze medal behind teammate Yusa and Hall of Famer Ferenc Csik, the surprise winner from Hungary.
Because of Arai's medal winning performance, he competed on Japan's gold medal winning 800m freestyle relay with teammates Yusa, Shigeo Sugiura and Masaharu Taguchi. The team set on Olympic record in the heats and returned to the finals setting new Olympic and world records of 8 minutes 51.5 seconds. Arai was the anchor man on the relay. During his career, Shigeo Arai won seven Japanese national titles in the 100m and 200m freestyles.