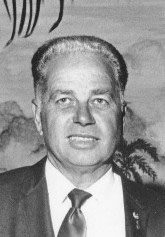 Sherm Chavoor (USA)
Honor Swimmer (1977)
The information on this page was written the year of their induction.
FOR THE RECORD: Coached 32 years. 1967 U.S. Women's Pan-American Team Coach. 1968 and 1972 U.S. Women's Olympic Coach. 1968 A.S.C.A. "Coach of the year". Only coach to have 2 Sullivan Award winners. His swimmers have produced 83 World Records and 131 American Records and in 1968 and 1972, Arden Hill swimmers garnered 16 Olympic gold medals, 2 silver medals and 3 bronze medals.
Unlike other Halls of Fame which honor the owners, the ISHOF finally has an owner to honor, millionaire Sherm Chavoor who owns his Arden Hills Swimming & Tennis Club. Sherm began as a YMCA swimming coach (Sacramento YMCA) 32 years ago. In 1954, he began his own club at Arden Hills (with the Ferris family, the first in a long line of champions at this family club) where he won the Nationals and repeatedly was among the leaders. Aside form his Olympic coaching record, Sherm has coached football. Born in Hawaii he came to California and developed one of the greatest teams (Arden Hills, 1969 National AAU Champions) and three of the greatest swimmers of all time – Mark Spitz, Mike Burton and Debbie Meyer.