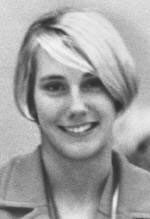 Sharon Wichman (USA)
Honor Swimmer (1991)
The information on this page was written the year of their induction.
FOR THE RECORD: OLYMPIC GAMES: 1968 gold (200m breaststroke), bronze (100m breaststroke); AAU NATIONAL CHAMPIONSHIPS: 3 (100yd, 200yd breaststroke).
If you had two wishes that might come true, what would they be? This was the question Sharon was asked on a guidance questionnaire in 1965 at Chester T. Lane Junior High School. Sharon's first wish was, "To get a gold medal in the Olympics." Little did she know that her wish would come true.
Unlike most of us who have blown our big chance because we didn't prepare for the unexpected, Sharon was ready to take the reins when world record holder and teammate Catie Ball, became very ill and could not compete at the Olympic Games in Mexico City. Sharon won the 200 meter breaststroke in Olympic record time and became the first American woman in
the history of the Olympic Games to capture the 200m breaststroke title. She also won the bronze medal in the 100m breaststroke, barely out-touched by gold medal winner Djurdica Bjedov of Yugoslavia by three tenths of a second.
Sharon began her career at Club Olympia in Fort Wayne, Indiana at age eleven. In 1966, Sharon's father was transferred to Mexico City and she missed the expert coaching of breaststroke specialist and Hall of Famer, Stefan Hunyadfi. Despite the advantages that could be obtained from high altitude training, Sharon's training was minimal and she returned home one month early to train with Hunyadfi for the U.S. Summer National Championship of 1967.
Although she returned to Mexico to compete in the Olympic Games in 1968, Sharon was a scared and homesick sixteen year old. It was the Olympic training camp in Colorado Springs and the encouragement from Olympic Coach Frank Elm, that prepared Sharon for the competition. "He said just the right thing because his words were all I though of the last length," said Sharon.
Having continued success in 1969, Sharon captured the national short course title in the 100 meter breaststroke and placed in the top three in all national competitions. She went on to win international titles at Bremen, Germany in the 100 and 200 meter breaststroke events. Sharon's attitude was not so much to beat someone, but to have a good race, and she had many good races.