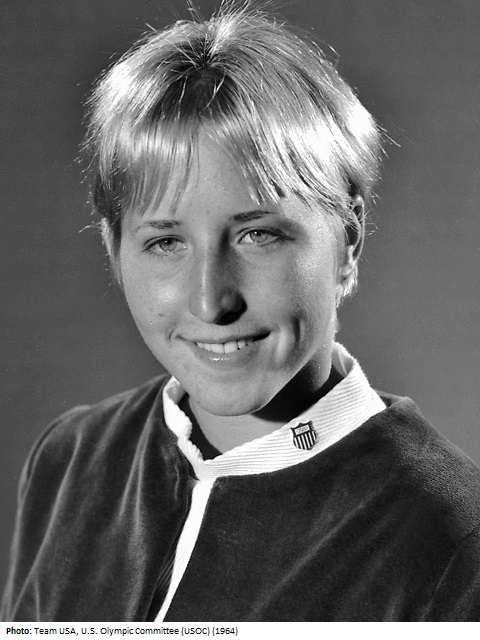 Sharon Finneran (USA)
Honor Swimmer (1985)
The information on this page was written the year of their induction.
FOR THE RECORD: OLYMPIC GAMES: 1964 silver (400m individual medley); WORLD RECORDS: 6 (800m freestyle; 200m butterfly; 400m individual medley); PAN AMERICAN GAMES: 1963 gold (400m freestyle); AAU NATIONALS: 10 (100yd, 200m butterfly; 400yd, 400m individual medley; 500yd, 1650yd freestyle; 1 relay); AMERICAN RECORDS: 8 (200yd, 200m butterfly; 400yd, 400m individual medley; 1500yd, 800m, 880yd freestyle; 1 relay).
Sharon Finneran literally came on the world swimming scene like a typhoon. It was Japan, 1962. Earlier in the summer she had knocked six seconds off Donna deVarona's World Record from :35 to :29. In Tokyo, Sharon swam the first heat in :27; Donna went :25 in the second heat, and Sharon won the finals in :21. There was a typhoon between the heats and the finals. The finals had to be postponed two days. This was about the only postponement, as the two best friends and teammates took turns knocking each other's records, leading up to a return trip to Tokyo in 1964. This time it was Donna first and Sharon second, one tenth of a second behind.
The most accomplished of the five swimming Finnerans, Sharon set six World and thirteen American Records, most of them in events regularly contested in the U.S.A. but considered too tough for the Olympic women's program. These records were in the 500-yard and 1650-yard freestyle, 200 butterfly, and 800 freestyle, both yards and meters. Her best swimming was done in the non-Olympic years of 1962 and 1963, when she won seven of her eleven National titles. She came back strong again after Tokyo in 1964 and 1966, winning four more Nationals and setting two more American Records.
Sharon Finneran has gone on to be a great Masters Champion:". . . because it makes me feel better to be in shape while raising children." Her four brothers and sisters were outstanding swimmers, divers and water polo players. Her brother, "perfect dive Mike" also made an Olympic team ('72); he now coaches at South Carolina. The Finnerans — uncles, parents, brothers, sisters, children and husband–return to Fort Lauderdale to be with Sharon at her induction to the Hall of Fame. It was from Fort Lauderdale that Sharon's mother, Carolyn, went forward–with five kids in a motel room–to conquer the world of Age-Group swimming.