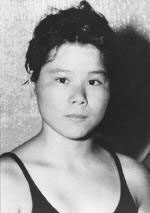 Satoko Tanaka (JPN)
Honor Swimmer (1991)
The information on this page was written the year of their induction.
FOR THE RECORD: OLYMPIC GAMES: 1960 bronze (100m backstroke); 1964 4th place (100m backstroke); WORLD RECORDS: 15 (110yd, 220yd, 200m backstroke) JAPANESE NATIONAL RECORD: 100m, 200m backstroke (1958-1970).
Born on the island of Kyushu, Japan in 1942, Satoko Tanaka battled childhood bronchitis and beriberi to become the world's greatest 200 meter backstroker of her time. From 1959 to September 1964, she held the World Record, lowering it 10 times, except for a period in 1960 when Lynn Burke set the mark. Satoko reclaimed the title 8 days after Burke's swim and her new record lasted another 4 years.
Tanaka made her international debut at the 1958 Asian Games, where she set a Japanese record in the 100 meter backstroke with a time of 1:15.1. Two years later, she represented Japan at the 1960 Olympics in Rome and captured the bronze medal, finishing at 1:11.4.
Although Satoko had success swimming the 100 meter backstroke, the 200 was her strongest event. She often won events by over half a pool length and raced against the clock instead of her fellow competitors. Unfortunately, the 200 meter backstroke was not an Olympic event for women in Rome or Tokyo and Satoko never won an Olympic gold medal.
Remarkably, Satoko held the Japanese National record in the 200 meter backstroke from 1958 to 1970 and the 100 meter backstroke for a total of 12 years. She captured 15 World Records in the 200 meter, 110 yard, and 220 yard backstroke events.
Satoko has followed the footsteps of her coach Toshiaki Kurosa. She is a swimming coach for Shinnihon Iron Manufacture and teaches special swimming programs for asthmatics. Satoko still finds time to swim as a member of her local Masters Team.