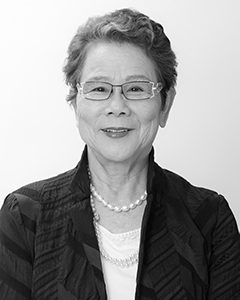 Satoko Takeuji (JPN)
Honor Masters Swimmer (2019)
The information on this page was written the year of their induction.
INTERNATIONAL HIGHLIGHTS: 40 FINA MASTERS WORLD RECORDS; WORLD POINTS-1313; 9 AGE GROUPS (35-39 THROUGH 75-79); TOP TEN: 31 TIMES; 28 LONG COURSE AND 12 SHORT COURSE FINA MASTERS WORLD RECORDS IN BACKSTROKE; IN WORLD RANKINGS SINCE 1985, SHE HAS 34-NUMBER 1, 3- NUMBER 2 AND 2-NUMBER 3 LONG COURSE AND 13-NUMBER 1, 4-NUMBER 2 AND 1-NUMBER 3 SHORT COURSE FOR A TOTAL OF 47-NUMBER 1, 7-NUMBER 2 AND 3-NUMBER 3 TOTAL WORLD RANKINGS IN THE BACKSTROKE; 6 FINA MASTERS WORLD CHAMPIONSHIPS: TEN GOLD.
In 1960, when Satoko Takeuji was just a Senior in high school, and a member of her high school swim team, she was selected as a member of the Japanese Olympic Team. She traveled to Rome, where she won a bronze medal in the 100m backstroke. Satoko was also a member of the 1964 Olympic Team that was held in her home country of Japan. After that, she took a break from swimming for just over a decade to raise her family.
Then, when the Japanese Masters Swimming Association was established, Satoko was asked to become an executive in the association. She also started swimming classes for adults to promote swimming. She was 43 years old when she came back to swimming. It was then that she began to swim Masters.
Satoko is a backstroke swimmer that competes in the 50m, 100m and 200m events. Her Masters career spans 33 years. She went to the 1986, 1988, 1996, 1998, 2004 and 2006 FINA Masters World Championships and won gold in all ten events entered. She is currently competing in the 75-79 age group.
Of her 40 world records, 10 of them lasted for five years or more. In 1992, Satoko had a stellar year in the 50-54 age group, setting long course world records for all three backstroke distances (50m, 100m, 200m). This included dropping the 50m record by almost two-and-one-half seconds, from 37.18 down to 34.87. That record stayed on the books until it was broken by the legendary Laura Val in 2001.
In 2017 she was the runner-up in Swimming World Magazine's Top 12 World Masters Swimmers of the Year. She is a Senior Director in the Japan Masters' Swimming Association and has held swimming classes for 120 children with asthma once a week for 30 years, in cooperation with doctors and nurses.