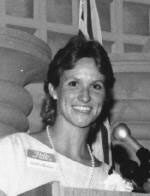 Sandy Neilson-Bell (USA)
Honor Masters Swimmer (2005)
The information on this page was written the year of their induction.
INTERNATIONAL HIGHLIGHTS: World Points – 982, Pre-1986 Points – 56, Total Points – 984; Since 1981, she has competed in five age groups (25-29 thru 45-49); 43 FINA MASTERS WORLD RECORDS;
Sandy Neilson was raised in the small Southern California town of El Monte. At the age of 10, she began swimming for the El Monte Aquatics Club coached by Don LaMont. Only five years later at age 15 in 1971, she set the American Record in the 100 yard freestyle and won gold medals in the 100 meter freestyle and 400 meter freestyle relay, at the Pan American Games in Cali, Columbia. She also won the silver medal in the 400 meter medley relay.
The next year, truly as a dark horse at age 16 in preparing for the 1972 Olympic Games, Sandy qualified third on the U.S. team in the 100 meter freestyle swimming at the U.S. Olympic Trials. In Munich, she surprised everyone when she went on to win three Olympic gold medals in the 100 meter freestyle and both relays. In order to win the 100 meter freestyle, Sandy had to beat the favorites: the world's top woman swimmer Shane Gould (Australia) and the top American woman swimmer Shirley Babashoff. But by winning the 100 freestyle, Neilson earned her place on the relay teams and led off the freestyle relay and anchored the medley relay to world records.
Sandy retired shortly after her 1972 Olympic triumph, but decided to try Masters swimming nine years later, after she took a job coaching the Industry Hills Masters and seeing how much fun her swimmers were having. She won "all" in the 25-29 age group setting records in the freestyle and individual medley. Soon after, at a U.S. Masters Nationals, she met her future husband, sports psychologist and highly accomplished Masters swimmer, Dr. Keith Bell.
Keith began coaching Sandy and encouraged her to swim both Masters and U.S. Senior swimming, suggesting that a good goal would be to break the world record. She set her sights on making the 1988 Olympic Team. From ages 28 to 32, she swam on both Masters and USS Senior Elite levels, setting records in Masters while making progress for "the old folks" in U.S. and international swimming, too. At age 32, Sandy, ranked internationally while swimming in the U.S.S. Senior Elite Program, changing the swimming world's thinking of what is old… move over Phil Niekro, Pete Rose, Walter Spence, Arne Borg!
Sandy was the first ever 30, 35 and 39 year old qualifying to swim at the U.S. National Championships. She was the first woman Masters swimmer to compete in the U.S. Olympic Trials at ages 32 and 36. In the 1988 trials, she just missed the team with a time that would have finaled at the Seoul Olympics. Sandy was the first woman over age 30 and again at age 35 to break a minute in the 100 meter freestyle. While accruing over 75 Masters National Championships, 72 Masters National Records and 43 Fina Masters World Records, Sandy was at the same time the first woman to compete on the National elite level in three different decades, usually competing against girls half her age. In Masters ranks, she has scored 75 number one, 26 number two and 16 number three world rankings.
Inducted into the International Swimming Hall of Fame in 1986 for her Olympic and international achievements pre-Masters, Sandy is also a member of the Helms Hall of Fame, El Monte School Hall of Fame, and the UC Santa Barbara Gaucho Hall of Fame.
As a mother of four, and grandmother of two, she runs the company that publishes and markets her husband's sports psychology and swimming books. She coaches a summer club of 200 kids and along with her husband, Keith, she has been devoted to teaching & coaching adults over the last couple of decades. They have started six different adult teams together and won numerous USMS National Team Championships.