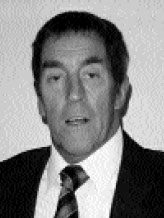 Sandy Galletly (USA/GBR)
Honor Masters Swimmer (2007)
The information on this page was written the year of their induction.
INTERNATIONAL HIGHLIGHTS: World Points – 675, Pre-1986 Points – 0, Total Points – 675; Since 1987, he has competed in 4 age groups (45-49 thru 60-64); 25 FINA MASTERS WORLD RECORDS;
He began swimming at the age of 8.At 15, he broke onto the international scene. He competed in three Commonwealth Games and was affectionately nicknamed the Flying Dutchman. In 1970, as the oldest member of the Scotland Team, he was named Captain for Commonwealth Games held in Edinborough.
Ten years later, a good friend enticed Sandy Galletly to join Masters swimming. Always keen to break world records, Sandy agreed and since then the records have tumbled. Sandy has been on top of the list for more than 18 years. He has set over 25 FINA Masters World Records in freestyle events — 400m, 800m, 1500m and 400m I.M. To date, he has competed in the FINA Masters World Championships five times from 1994 to 2004 in 16 events winning 12 gold and 4 silver medals. After decades of making waves, undoubtedly, Sandy will continue to leave his mark with each new age group he enters!
Sandy knows that swimming has been good to him — 'it keeps you fit, there are few injuries, you can compete around the world and while you can beat a friend in the water, the friends you make can't be beat'! Sandy can't seem to stay away from the pool with the continual challenge to achieve new goals and set new levels.