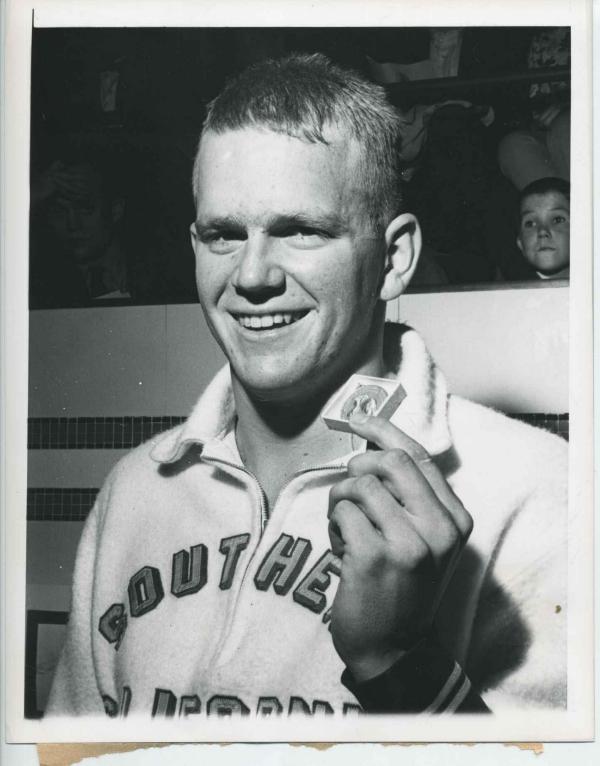 ROY SAARI (USA)
Honor Swimmer (1976)
The information on this page was written the year of their induction.
FOR THE RECORD: OLYMPIC GAMES: 1964 gold (800m freestyle relay), silver (400m individual medley); WORLD RECORDS: 4; NATIONAL AAU CHAMPIONSHIPS: 17; NCAA CHAMPIONSHIPS: 11 swimming; 5 water polo; First swimmer to break 17 minutes in the 1500m freestyle.
Roy Saari won his first U.S. AAU Nationals at 13. Later at the University of Southern California, he won 9 individual NCAA Championships — 3 each year — the second man in NCAA history to win the maximum allowed (Jack Medica, Washington, in mid 1930s was the first). Many rate him the greatest college swimmer and the greatest AAU combination swimmer-water polo player of all time. He won Nationals from 100 yards (relay) to 3 miles in freestyle and in the 400m I.M.. On events over 100, he used the wide scissors kick of the trudgeon crawl — popular before 1920 — then changed to a six-beat flutter to kick it home on the final lap. Roy won 33 Nationals between 1959 and 1969. He is the son of Uhro "Whitey" Saari, the USA's many-time National and Olympic water polo coach from El Segundo, California. His brother, Robert, was an All-American water polo player and on the 1964 Olympic water polo team.