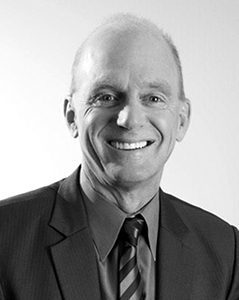 Rowdy Gaines (USA)
Honor Masters Swimmer (2019)
The information on this page was written the year of their induction.
INTERNATIONAL HIGHLIGHTS: 26 FINA MASTERS WORLD RECORDS; WORLD POINTS-1201; SINCE 1989, HE HAS COMPETED IN 4 AGE GROUPS (30-34, 35-39, 50-54, & 55-59); FOUNDER OF ROWDY GAINES MASTERS CLASSIC.
When your parents are world class water skiers at the famous Cypress Gardens in Winter Haven, Florida, there's a good chance, you'll be born in the water and swimming will be in your blood. But it took the man who has become known as the Ambassador for Swimming, until he was 17, to start swimming competitively.
As a sprint freestyler, Ambrose "Rowdy" Gaines became a legend when he overcame the disappointment of the 1980 Olympic boycott to win three gold medals at the 1984 Los Angeles Games.
Then, in 1988, Rowdy got involved in Masters swimming when the legendary Tiger Holmes asked him to be a part of his Holmes Lumberjax Masters team and join them on the trip to the FINA Masters World Championships in Australia.
In 1991, Rowdy's athletic pursuits in Masters Swimming came to a halt, when the swimming champion was diagnosed with Guillain-Barre syndrome, a rare condition in which a person's immune system attacks part of their peripheral nervous system. He made a full recovery after only two months of treatment, eventually integrating swimming into his physical therapy routine.
In Masters swimming, Rowdy has broken 26 FINA Masters World Records (19 long course and 7 short course), 24 individual USMS records and has competed in four different age groups. Gaines has been in the Top Ten 17 times and he has had 57 swims ranked in the Top Ten. Rowdy has attended two FINA World Championships, and only one of those swimming in individual events, so he has accumulated most of his points through world records, world rankings and top ten standings.
The longevity of some of Rowdy's world records is incredible. His longest standing world record of his 200m freestyle record in the 30- 34 age group that was set in 1989 is still standing after 30 years.
Rowdy recently turned 60 and is hoping to swim in future Masters meets. Every year, he hosts the Rowdy Gaines Masters Classic, a Masters swim meet held every October in Orlando. This year will be the 11th annual.
Gaines is a well-known commentator for all major swimming events. His career as an announcer for NBC's Olympic coverage began in 1992 with the Barcelona Olympics. He has since acted as the "Voice of Swimming" for seven Olympic games and will be going to Tokyo in 2020.
Among his many achievements, Rowdy's immeasurable contributions to the sport of swimming earned him the prestigious USA Swimming Award in 2015 – the highest honor in swimming. If anyone deserves it, it's Rowdy.