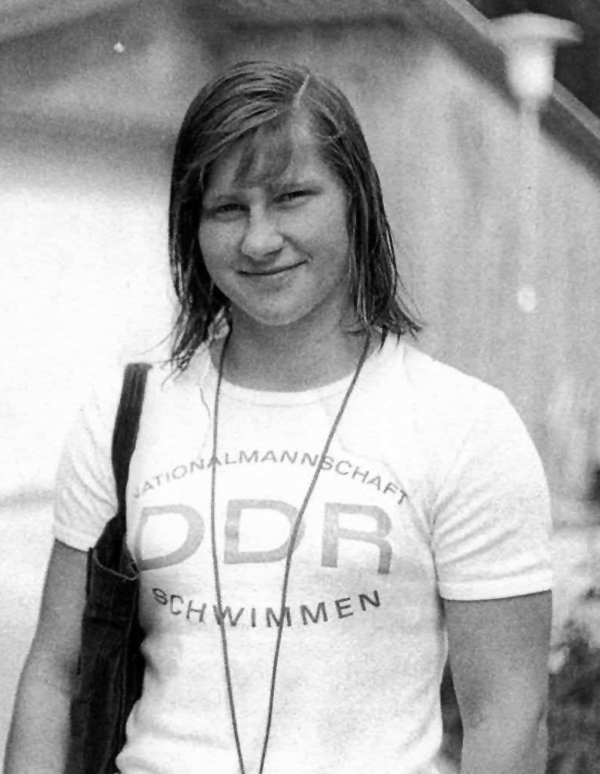 Rosemarie Kother (GDR)
Honor Swimmer (1986)
The information on this page was written the year of their induction.
FOR THE RECORD: OLYMPIC GAMES: 1976 bronze (200m butterfly); WORLD CHAMPIONSHIPS: 1973 gold (200m butterfly; relay), silver (100m butterfly); 1975 gold (200m butterfly; relay), silver (100m butterfly); EUROPEAN CHAMPIONSHIPS: 1974 gold (100m, 200m butterfly; relay); WORLD RECORDS: 8 (100m, 200m butterfly; 3 relays); EAST GERMAN CHAMPIONSHIPS: 5 (1972: gold 100m, 200m butterfly; 1973, 1974, 1975: gold (200m butterfly).
Rosemarie Gabriel Kother was the supreme women's flyer of her time. She broke the 200 Fly World Record five consecutive times between 1973 and 1976. Holder of all world records, she had to settle for a 1976 Montreal Olympic bronze in her usually dominant race, the 200 Fly. She had come out of retirement to swim this and the two relay preliminaries. Her greatest achievements were in the World Championships and European Championships between Olympics where she won four golds and two silvers swimming during the same period as her teammate Kornelia Ender. Rosemarie won two golds and a silver in the first World Championships at Belgrade, (1973), in what was one of the Games outstanding performances.
Doping Disclaimer: In a German court of law, after this swimmer was inducted into the International Swimming Hall of Fame, team officials confessed to administering performance enhancing drugs to this swimmer, who therefore obtained an illegal and unfair advantage over other athletes. For more information, click here.