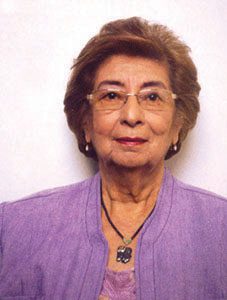 Rose Cody (PUR)
Honor Masters Contributor (2021)
The information on this page was written the year of their induction.
FOR THE RECORD: FINA MASTERS SYNCHRO CHAIR 1994-2017; FINA MASTERS WORLD CHAMPIONSHIPS SYNCHRO SWIMMING DIRECTOR (1994-2017); MEMBER FINA MASTERS TECHNICAL COMMITTEE (1994-2017); MEMBER FINA TECHNICAL SYNCHRO COMMITTEE, MANY YEARS; UANA COMMITTEE MEMBER 20 YEARS; FINA JUDGE 1994-2004; CCCAN COMMITTEE MEMBER (1976-2004)
Rose Cody is one of the most influential individuals in Masters artistic (synchronized) swimming. Cody became a member of the FINA Masters Committee in 1994 and remained on the committee until 2017. During this time she served as the Synchronized Swimming Director at every FINA Masters World Championships from 1994 through 2017.
The position of Director at FINA Worlds necessitates keeping order despite all obstacles. Her calm, cool and collected demeanor has made her a brilliant steward through all situations, no matter the situation. There was never a time more difficult than at the Casablanca Worlds in 1998. Men had been allowed to compete in Masters synchro in previous World Championships, but FINA representatives at the event said that the men entered would not be allowed to compete. At that time, synchro was defined as a "female only" sport. This caused an uproar at the officials' technical meeting, normally attended by only coaches and officials, had approximately 75% of the 325 synchro athletes there protesting the decision. It was Rose's ability to take charge, state the rules, listen to impassioned arguments, and then calm the athletes, that enabled the meet to go forward. No matter the situation – rules questions, scheduling problems, missing officials – Rose would handle it!
Cody put synchronized swimming on the map in Puerto Rico in 1976, after having seen it for the first time at the Pan American Games in Mexico City in 1975. By 1977, Puerto Rico was participating in regional competition with the CCCAN Championships, and Cody immediately began to contribute to synchro's rise in popularity.
For the next 20 years, she was Chairperson of her federation's Synchronized Swimming Committee—Federacion Puertoriqueña de Natacion (1976-1992, 1994-1997). She was Chairperson of the Synchronized Swimming Technical Committee (1976-2004) of CCCAN (Central American and Caribbean Swimming Confederation). Since 1992, she has been a member of UANA (Unión de Natación de Las Americas) serving eight years as Chairperson and twelve years as Secretary. With UANA's governance of the Pan American Games, she has served as referee and judge at every Games since 1979.
Cody was a FINA judge from 1976 to 2004, when mandatory age requirements caused her retirement. She has been a referee, judge and administrator at all events from grassroots to CCCAN, CISC and CAC (Central American and Caribbean Games). She has conducted clinics in over 18 countries throughout Central and South America and the Caribbean.
She has been called the "Mother of Synchronized Swimming in Puerto Rico" as she has the distinction of introducing Synchronized Swimming for her country and helped to develop the sport there and around the region. She is also the mother of masters synchro and her constant presence at the World Championships is often missed since her retirement.