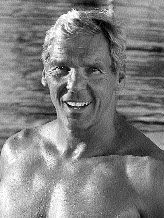 Ronald Johnson (USA)
Honor Masters Swimmer (2007)
The information on this page was written the year of their induction.
INTERNATIONAL HIGHLIGHTS: World Points – 706, Pre-1986 Points – 14, Total Points – 720; Since 1988, he has competed in 4 age groups (55-59 thru 70-74); 33 FINA MASTERS WORLD RECORDS;
Few epitomize the Masters slogan "Swim for Life" more than this man. His entire life has been devoted to swimming — as a coach and as an athlete. He began his illustrious aquatic career in high school breaking national records in the individual medley. In college, he swam for the University of Iowa and served as assistant to the infamous James E. "Doc" Councilman. Throughout his collegiate coaching career, Ronald Johnson has participated in coaching 31 Olympic finalists, 14 Olympic medal winners and 19 national champions.
In 1973, when Masters was literally in its infancy, Ron Johnson was there competing. But he did not break onto the international scene until 1988 swimming the freestyle, backstroke and butterfly events. Since 1996, he has been breaking records and is the only male Masters swimmer to simultaneously hold world records in all four competitive strokes plus the individual medley. Ron has been voted male Masters swimmer of the year three times.
Breaking records just isn't enough for Ron Johnson; he helps others do the same! In 1992 he formed the Sun Devil Masters Swim Team that to date has produced more than 70 national Masters champions and co-hosted the Masters National Championships. Ron Johnson lives true to his belief that swimming is undoubtedly the most fun you can have without taking all of your clothes off!