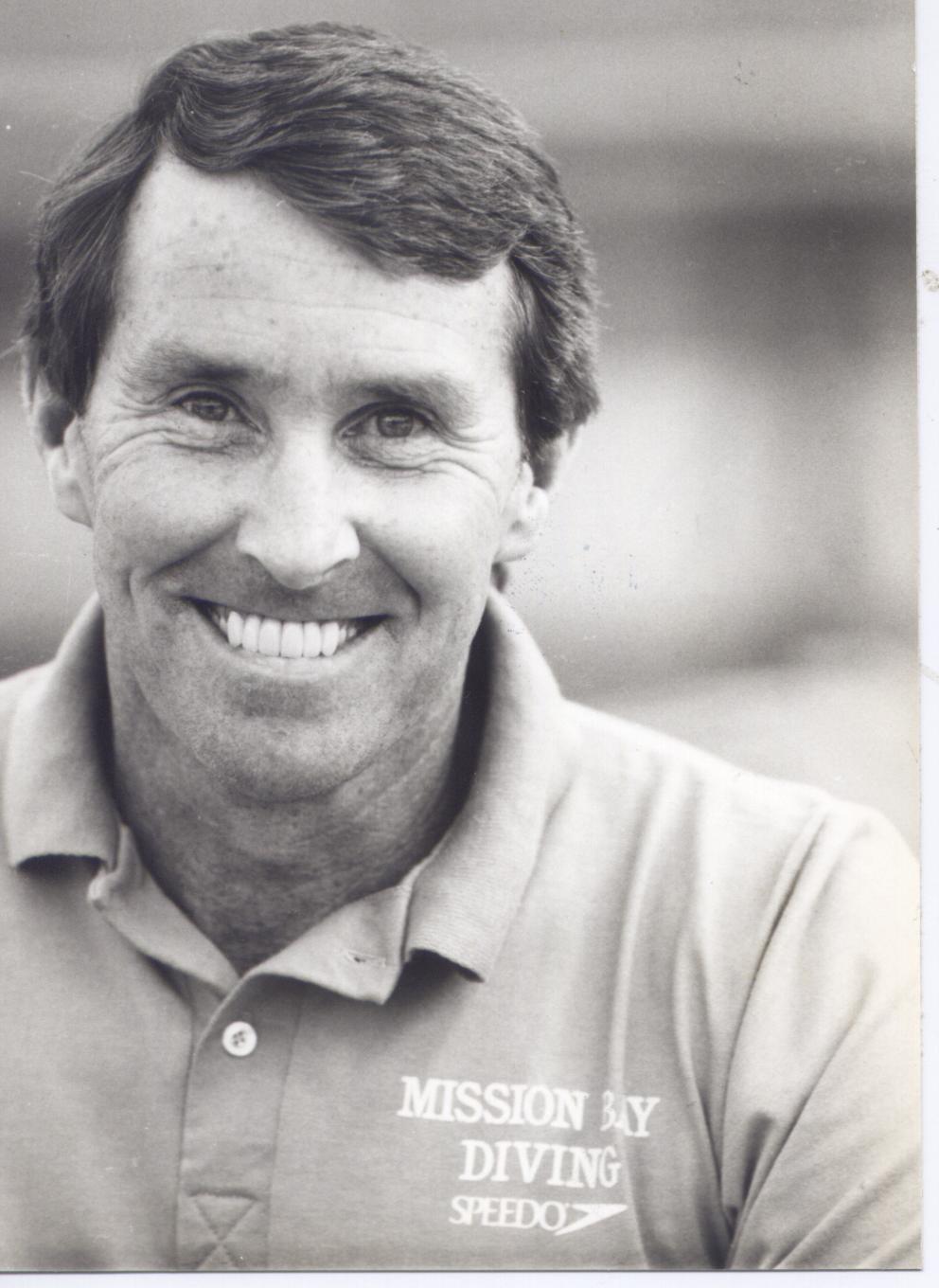 Ron O'Brien (USA)
Honor Diver (1988)
The information on this page was written the year of their induction.
FOR THE RECORD: NCAA CHAMPIONSHIPS: 1959 (one meter); AAU NATIONAL CHAMPIONSHIPS: 1961 (3 meter); OLYMPIC COACH: 1972, 1976, 1980, 1984, 1988; Assistant Coach: 1968; WORLD CHAMPIONSHIPS COACH: 1975, 1978, 1982, 1986; PAN AMERICAN COACH: 1967, 1975, 1983, 1987; WORLD CUP COACH: 1981, 1983, 1985, 1987; 1974 Malone Memorial Award; 1976 Fred Cady Award; 1979-1987 Mike Peppe Award; 1984 Ohio State University Sports Hall of Fame; Winner of 62 National Team Championships while coaching at University of Minnesota (1962-1963); Ohio State (1963-1978), Mission Viejo (1978-1985) and Mission Bay (beginning 1985-1988).
Ron O'Brien has done it all in diving from NCAA and AAU national champion under Mike Peppe while a six letter man (gymnastics and diving) at Ohio State to the top professional water show act (with Hall of Famer Dick Kimball), to the Ph.D. that made believers out of the academicians, to a top college, club, national and international coach. He has won U.S. Diving's Award as the "Outstanding Senior U.S. Diving Coach" every year since the award was inaugurated in 1979.
It seems like Ron O'Brien has always been a diving coach. Standing next to the deep end (now a diving well), speaking in sort of a stage whisper, animated by body language and hand signals of what the diver did or did not do. His face is constantly sunburned–his green eyes bloodshot with crinkle smile lines around his mouth. His ears and nose peeling as he does a dance in place, teetering on the edge of the pool.
In his first 25 years of coaching, his divers have won 154 gold, 90 silver and 78 bronze medals in major Olympic, world, national, NCAA and Big Ten Conference diving championships. This doesn't take into account the dozens of medals in prestigious invitational meets around the world. He has coached everyone from beginners to the famed Greg Louganis.
Ron narrowly missed the 1960 Olympic team himself placing third or fourth in the Olympic trials where only two were taken. Perhaps this experience gave him the patience, persistence and understanding to be the coach of every Olympic team since 1968. "It certainly was a good motivator," he says. "It made me want to make it as a coach. But what keeps me going is not winning," O'Brien says, "but the quest for reaching potential in myself as a coach and my kids as divers. It's the pursuit of excellence."
If you had to pick a highlight from his first 25 years of coaching at Minnesota, Ohio State and the two Missions, it might be the 1982 World Championships when O'Brien's divers from Mission Viejo won all four of the diving gold medals, the first and only time this has happened in diving history.