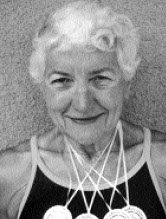 Rita Simonton (USA)
Honor Masters Swimmer (2006)
The information on this page was written the year of their induction.
INTERNATIONAL HIGHLIGHTS: World Points: 1045, Pre-1986 points: 185, Total points: 1230; Since 1972, she has competed in seven age groups (50-54 thru 80-84); 35 FINA MASTERS WORLD RECORDS.
She learned to swim in the 1920's with water wings in a brook in Connecticut. Her father always encouraged her to swim further and further. She competed in the New England AAU club competitions but wasn't any good – nevermaking it out of the "juniors". But, Rita Simonton loved to swim. Following her marriage Rita took some years off to raise her children and worked as a bookkeeper.
1n 1966 she moved to Huntington Beach and swam regularly in the Los Altos Y, joining Sally Dillon's Long Beach Masters team. Her first meet was in 1972. In 1976, she found Huntington Beach's Golden West College – where the swimming classes had coaches – she has been there ever since. Throughout the years, she had many coaches and she just kept swimming.
Since the 1994 FINA Masters World Championships, she has won 13 gold medals mostly in freestyle events ranging from 50 to 800 meters. She continues to break records causing her competitors to "watch out" for her. In 1999, Swim Magazine named her Top Masters Swimmer. Throughout her career, Rita has established 49 FINA Masters World records throughout eight different age groups from 50 through 54 to 85 through 89 and has accumulated 1045 World Points.
It is a good thing that Rita Simonton took her father's words to heart – to swim further – she is regarded as one of the greatest competitors in Masters swimming and her relentless passion for swimming is an inspiration to those in her wake.