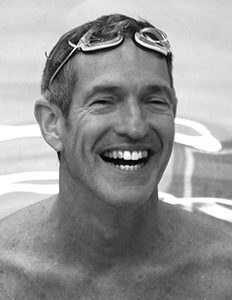 Rick Colella (USA)
Honor Masters Swimmer (2019)
The information on this page was written the year of their induction.
INTERNATIONAL HIGHLIGHTS: 47 FINA MASTERS WORLD RECORDS; WORLD POINTS-1474; 6 AGE GROUPS (40-44 THROUGH 65-69); TOP TEN: 15 TIMES; 25 LONG COURSE AND 22 SHORT COURSE FINA MASTERS WORLD RECORDS IN BREASTSTROKE, FREESTYLE, BUTTERFLY AND I.M.; IN WORLD RANKINGS SINCE 1992, HE HAS 31-NUMBER 1, 10- NUMBER 2 AND 7-NUMBER 3 LONG COURSE AND 23-NUMBER 1, 1-NUMBER 2 AND 1-NUMBER 3 SHORT COURSE FOR A TOTAL OF 54-NUMBER 1, 11-NUMBER 2 AND 8-NUMBER 3 TOTAL WORLD RANKINGS IN THE BREASTSTROKE, FREESTYLE, BUTTERFLY AND I.M.
This Seattle-born phenom started competitive swimming at age eight and rose through the ranks along with his older sister, Lynn. Both were star swimmers at the University of Washington and Olympic prospects. By the time Rick Colella was in his early 20s, he was one of the best swimmers in the world and represented the United States at the Munich and Montreal Games.
After swimming, Rick Colella then took a job with Boeing as a flight-operations engineer and dabbled in other sports including running, canoeing and Nordic skiing. But then in 1990, the year the King County Aquatics Center was built for the Goodwill Games, Colella started swimming again with a group of five friends.
"I realized swimming is a great exercise as you get older. Whereas jogging and other sports got too hard on my body, swimming makes less of an impact but keeps me fit," he said.
Since competing in Masters, Colella has set 47 Masters World Records and the longevity of some of his records is what makes them more impressive. His 200m breaststroke short course world record in the 60- 64 age group has stood for eight years.
Since retiring from Boeing in 2013, he has become one of the best Masters swimmers in the world, but his favorite part of Masters swimming is the social aspect. He loves seeing his friends each day at workouts and connecting with swimmers from around the country. Colella still enjoys swimming because it gives him a target and goal to point toward in training. But more importantly Masters swimming has been all about fitness, friendships, and fun. One of the most amazing things about the swimming community, he says, is that no matter how often you see someone, you have an immediate connection and common ground. "I can run into someone I swam with 50 years ago and we immediately connect and have lots to talk about. This is something very special for me about the swimming community."