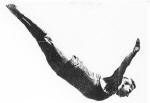 Richmond Cavill Eve (AUS)
Honor Pioneer Diver (1991)
The information on this page was written the year of their induction.
FOR THE RECORD: OLYMPIC GAMES: 1924 gold (plain high diving).
Richmond "Dick" Eve is not only the only Australian diver to ever win an Olympic gold medal, he is the only Australian diver to win a medal at the Olympic Games. At the Paris Olympics in 1924, Dick won the plain high dive.
Dick Eve put the sport of diving on the map in Australia. There was really never any doubt that Eve would be successful in some sort of water sport. His mother was form one of swimming's most famous dynasties, the Cavill family, and his father ran the Manly Baths and later the Spit Baths. The Cavill brothers had done it all in swimming, but nephew Dick was the first in diving.
Coached by his mother, Dick was not very well known when he went to Paris, but rivals soon realized his competitiveness when they saw him perform brilliantly at an exhibition meet before the Games. In plain tower diving at the 1924 Olympics, Eve was trailing going into the last dive and needed a near perfect score to take the gold. Dick's dive was flawless and the Parisians gave him a standing ovation.
Eve also qualified to compete on the springboard, but an ear infection affected his form and he had to withdraw from the event.