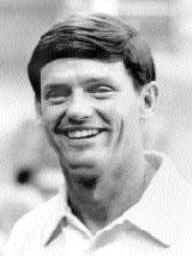 Richard Quick (USA)
Honor Coach (2000)
The information on this page was written the year of their induction.
FOR THE RECORD: 1984 OLYMPIC GAMES: Assistant Coach Men's and Women's Team; 1988 OLYMPIC GAMES: Head Coach Men's and Women's Team; 1992 OLYMPIC GAMES: Assistant Coach Women's Team; 1996 OLYMPIC GAMES: Head Coach Women's Team; 2000 OLYMPIC GAMES: Head Coach Women's Team; 1975 WORLD CHAMPIONSHIPS: Assistant Coach Men's and Women's Team; 1986 WORLD CHAMPIONSHIPS: Head Coach Men's and Women's Team; 1990 WORLD CHAMPIONSHIPS: Head Coach Women's Team; 1994 WORLD CHAMPIONSHIPS: Head Coach Women's Team; 1983, 1985, 1987, 1999 PAN PACIFIC CHAMPIONSHIPS: Head Coach; 1979 PAN AMERICAN GAMES: Assistant Coach; 1990 GOODWILL GAMES: Head Coach Women's Team. 1985 WORLD UNIVERSITY GAMES: Head Coach; Coach of numerous OLYMPIC medal winners and 13 NCAA Championship Teams; Coach of Southern Methodist University, Iowa State University, Auburn University, University of Texas and Stanford University.
Richard Quick was born in Akron, Ohio. His family moved to Austin, Texas, while Quick was still young, and it was there that he learned to swim, under the instruction of Bill Crenshaw for the Austin Aquatics Club. He swam in his first meet at age nine. Two years later, he moved to Wichita, Kansas, where he grew up swimming for Bob Timmons, superstar swim and track coach, for the Wichita Swim Club and Wichita East High School. At sixteen, Quick moved to Dallas, Texas, where he graduated from Highland Park High School. During his years in Dallas he swam for Wally Hofrichter and Jerry Culp. After high school, he attended Southern Methodist University, where he swam for Red Barr and George McMillan and was an All-American swimmer in 1965 and 1966. After graduating with a degree in physical education, he took his first coaching job at Spring Branch Memorial High School in Houston, Texas, beginning a coaching career that would make Richard Quick one of the most respected names in swimming worldwide.
With a name like Quick, it is no wonder that his swimmers swim fast. Even from the beginning, his Spring Branch Memorial High School team won six state championships. In addition to his high school coaching, Quick was also head coach of the Dad's Club in Houston. From there he served as assistant coach for the men's swim team at Southern Methodist University (SMU), his alma mater, under head coach George McMillan (1971-1975). While in Dallas, Quick organized and coached the Dallas Swim Club that produced his first National champion in 1975: Kim Dunson, American Record in the 100 yd. breaststroke, 1:05.3. During this time he also coached Leslie Crozier , many time National finalist. In 1976, Quick started the women's swimming program at SMU and laid the foundation for what would become one of the top programs in the country. The 1977-1978 season saw him as head men's coach at Iowa State University, and then it was on to Auburn University as head men's and women's coach for the next four years (1978-1982). At Auburn, he developed Rowdy Gaines into a world class sprinter. In 1982 Quick began coaching at the University of Texas, where his team would win 5 consecutive NCAA National Team Championships (1984, '85, '86, '87, '88), the longest women's swimming streak at that time. In the fall of 1988, he took the reins from Hall of Fame coach George Haines and became the head women's coach at Stanford University.
Richard Quick is now in his twelfth year at Stanford, and has guided the women's swim team to 7 NCAA National titles (1989, '92, '93, '94, '95, '96, '98). He has also developed 32 NCAA champions, winning 48 individual and 22 national relay titles. In his combined 23 years as a collegiate head coach, Quick has accumulated a 163-30 win-loss record, resulting in a .845 winning percentage. He is a five time NCAA National Coach of the Year (1984, '85, '86, '89, '92), and of the total 15 NCAA national titles awarded, Quick-coached teams have won 12 of them.
But those are only his achievements in the United States. Internationally, Quick has guided the U.S. National teams and competitors for over fifteen years. He has been involved in nearly every international meet in which the United States has participated since 1986, serving on five Olympic team coaching staffs (1984, '88, '92, '96, '00), four World Championship teams (1982, '86, '91, '94), three Pan Pacific Championship teams (1983, '85, '87), and Pan American Games, World Student Games and Goodwill Games teams. He was the first to be named as the U.S. National Team Coach in 1985.
Swimmers Richard has coached include Olympic gold medalists Rowdy Gaines, Jenny Thompson, Summer Sanders, Lea Loveless, Catherine Fox, Lisa Jacob and Jill Sterkel.
World record holders include Betsy Mitchell (200 backstroke), Rowdy Gaines (100 and 200 freestyle), Jenny Thompson (100 freestyle/100 butterfly) and Lea Loveless (400 medley relay).
Other Olympians include Tori Trees, Tracey McFarlane, Susan Johnson, Andrea Hayes, Agneta Eriksson, Annabelle Cripps, Elin Austevoll, Claudia Franco, Angie Wester-Krieg, Leigh Ann Fetter, Bill Forrester, Gabrielle Rose and Jill Johnson.
Outstanding national champions and international swimmers include Misty Hyman, Kim Rodenbaugh, David McCagg, David Marsh, Andrea Hayes, Janel Jorgenson, Janet Evans, Dara Torres, Kim Dunson, Leslie Crozier, Paul Hove, Andy Veris, Debbie Risen, Lori Heisick, John Pennington, Kara McGrath, Jenna Johnson, Jessica Tong, Jessica Foschi, Dede Trimble, Patty Sabo and Michelle Griglione.
Richard Quick has the ability to bring out the best in his swimmers, whether or not they are his personal athletes, or athletes he is coaching on an international trip. He has been chosen American Swimming Coaches Association Coach of the Year three times.