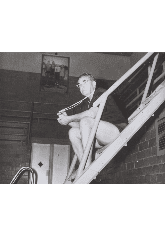 Richard O. Papenguth (USA)
Honor Coach (1986)
The information on this page was written the year of their induction.
FOR THE RECORD: OLYMPIC GAMES: 1952 Olympic swimming and diving coach for women. 1921-1925 University of Michigan diver and swimmer; 1926-1939 Coach at Indianapolis Athletic; 1939-1970 Coach at Purdue University and Lafayette Swim Club; Coached 4 Olympians, 9 World Record holders, 8 Diving Champions, more than 60 All Americans and at least 40 U.S. National Champions; Secretary/Treasurer of the College Coaches Swim Forum for 30 years.
The late Dick Papenguth, "Pappy of Purdue," was eminently successful as a swimming coach, a diving coach, an actor-producer of water shows, and as an administrator at camp, club, college, national and Olympic levels. He is credited with being the first swimming coach who "worked college women hard." It paid off with world records and national championships won by his Lafeyette Swim Club which was made up of Purdue co-eds. He was the first in a line of great coaches at the Indianapolis Athletic Club. His coaching career began in 1925 and ended with his death in 1970.
His men teams at Purdue produced 25 All-Americans, including World Record holders Elroy Heidke (breaststroke) and Keith Carter (breaststroke and freestyle) along with Hall of Famer Dave Armbruster. "Pappy" is given most of the credit for developing the butterfly stroke. One of his swimmers, Canadian Beth Whittal, star of the 1954 Pan American Games, won the Lou Marsh Award as Canada's Athlete of the Year. One of his I.A.C. divers, Strother Martin, became the leading character actor in Hollywood after apprenticing in Pappy's swimming, diving and acting water shows. Papenguth was responsible for getting Hall of Fame's Matt Mann to Michigan in 1923, "Because I needed a coach." He also ran Matt's Camp AK-O-Mak (the first girls' swim camp) for nine years and started the first university course in camping (at Purdue). Among his great swimmers, not listed above, were Anne Moss, June & Joanne Fogle, Patty Aspinall, Mary Alice Shivley, Betty Jane Lynch, Bob Dunlap, Randle, Thelma and Major Willis, Helen Lee Smith, Joan Fox, Al Rust, Barbara Cook, Betty Clemens, Everett Brooks, Bob Gawboy, John Dilley, and Morgan Byers.