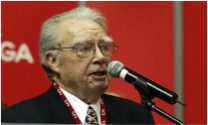 George Gate (CAN)
Honor Coach (1989)
The information on this page was written the year of their induction.
Legendary Canadian swimming coach George Gate has passed after a lengthy battle with Alzheimer's disease. He was 89 years old.
A regional swimming champion in his native England, Gate arrived in Canada in 1947, having seen wartime action with the British Royal Navy in the North Atlantic, Pacific and in British convoys to Russia. At wars end he wanted to become a forester in New Zealand but instead ended up on Vancouver Island as a logger before taking a job as Pool Manager of the tiny Olympiad pool in the pulp town of Ocean Falls, British Columbia. During his 14 years in Ocean Falls Gate had developed many superb racers including: Ralph Hutton, Allan, Ron and Sandy Gilchrist, Jack Kelso, Lenora Fisher and 1960 Rome Olympian Richard Pound, a 100-metre freestyle finalist who later in Montreal would become an influential IOC executive and head of the World Anti-Doping Agency. By the time Gate moved on to the famed Montreal Athletic Association in 1964, his Ocean Falls-based racers had set 26 national records and made up half of the Canadian men's Olympic team.
Moving on to the famed Montreal Athletic Association and later to Point Claire he developed many more world class swimmers including world record holders Wendy Quirk and Peter Szmidt. All totaled, Gate coached 33 athletes to Commonwealth, Pan-American, World Championship or Olympic Games medals, 10 from Ocean Falls and 23 from Montreal. He was selected seven times as head coach for Canada's national swim teams between 1954-85, was head coach of the Canadian team at the first World Championship in Belgrade in 1973 and also coached the 1968 Canadian Olympic Team.
George Gate was most proud of his programs in diving, synchronized swimming and water safety – and the 14 nationally ranked Canadian coaches who were his swimmers, including 3 Olympic coaches, the Johnson brothers and Cliff Barry. Pretty good for a British Seaman turned logger, lifeguard and mail-order clerk. He was inducted into the International Swimming Hall of Fame in 1989 as an Honor Coach.
George is survived by his four children, Brenda, Diane, Bill and Richard, who were at his side at his passing, and by an enormous extended family of friends – and those in aquatics whose teaching has been guided by Gate's innovative, influential hand.