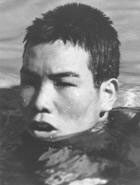 Reizo Koike (JPN)
Honor Pioneer Swimmer (1996)
The information on this page was written the year of their induction.
FOR THE RECORD: 1932 OLYMPIC GAMES: silver (200m breaststroke); 1936 OLYMPIC GAMES: bronze (200m breaststroke); Eight JAPANESE NATIONAL CHAMPIONSHIPS: 100m and 200m breaststroke.
Japan produced some of the world's greatest breaststroke swimmers, particularly during the decade of the 1930s. Reizo Koike was no exception.
In 1932, at the tenth Olympiad of Los Angeles, the only breaststroke event was the 200m, and the favorite was Japan's gold medal winner of the 1928 games, Yoshi Tsuruta. At the end of the preliminaries, he and Koike had both set new Olympic records of 2:46.2. In the semi-finals, Koike lowered the record another second and a half, beating Tsuruta by a half a second. Finally, in the third swim of the event, the final heat, Tsuruta held on to retain his gold medal winning streak and beat his younger teammate who won the silver medal.
Koike didn't stop at these Olympics. He went on to win a total of eight national breaststroke championships, preparing to go against the world's best at the 1936 Berlin Olympics. In the preliminaries, he qualified second behind teammate Tetsuo Hamuro. He won his heat in the semi-finals but qualified third behind Hamuro and American John Higgins. The final heat was very close with Hamuro winning the gold, Erin Sietas of Germany the silver, and Koike the bronze.
Reizo Koike was one of the best from Japan's international list of swimmers. From Japan's golden Age of Swimming, he ranks as one of the best breaststrokers in the world.