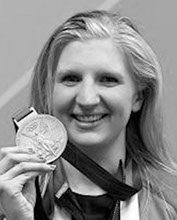 Rebecca Adlington (GBR)
Honor Swimmer (2018)
The information on this page was written the year of their induction.
FOR THE RECORD: 2008 OLYMPIC GAMES: gold (400m freestyle, 800m freestyle); 2012 OLYMPIC GAMES: bronze (400m freestyle, 800m freestyle); 2009 WORLD CHAMPIONSHIPS (LC): bronze (400m freestyle, 4×200m freestyle); 2011 WORLD CHAMPIONSHIPS (LC): gold (800m freestyle), silver (400m freestyle); 2008 WORLD CHAMPIONSHIPS (SC): gold (800m freestyle) , silver (4×200m freestyle); 2006 EUROPEAN CHAMPIONSHIPS (LC): silver (800m freestyle); 2010 EUROPEAN CHAMPIONSHIPS (LC): gold (400m freestyle), bronze (4×200m freestyle); 2010 COMMONWEALTH GAMES (Representing England): gold (400m freestyle, 800m freestyle), bronze (200m freestyle, 4×200m freestyle)
The youngest of three girls, Rebecca Adlington naturally wanted to do what her older sisters did, and the sisters were all swimmers. Before long, her desire to keep up with them made her into a serious competitor.
By the age of 14, when she was showing real promise as a distance swimmer, she came under the guidance of coach Bill Furniss, who would remain her coach throughout her career. Her commitment to training combined with mental toughness and her ability to tolerate pain made her one of Britain's brightest Olympic hopefuls. After a year with Furniss she won the 800m gold medal at the 2004 European Junior Championships.
Both Becky and her coach looked forward to 2005 with high expectations, but early in the year she came down with a case of glandular fever. Then, just as she was getting back in the pool, her sister Laura came down with a case of encephalitis that put her on life-support and fighting for her life for over a month. Laura eventually recovered, but the experience was traumatic for Becky and the next few years were full of ups and downs.
As the British Olympic Trials in 2008 approached, Becky knew she would have to swim her heart out and to the surprise of many, she won the 200 and 400m freestyle, in addition to the 800, which was her signature event. She eventually dropped the 200 to focus on the longer events.
First up in Beijing was the 400m freestyle, an event for which she had not even been certain to qualify for the British team. In the prelims she swam brilliantly and qualified for the finals in lane five. Then, in the final, she went from fifth place with 50 meters to go to snatch the gold medal from American Katie Hoff and teammate Joanne Jackson in a thrilling finger-tip finish. It was the first Olympic gold medal for a British woman since Anita Lonsbrough won the 200m breaststroke in 1960.
When she won the 800m freestyle five days later, destroying the field and smashing Janet Evans' 19-year old world record, there was no precedent. Adlington was the most successful woman swimmer Britain ever produced, and the first British swimmer since Henry Taylor had won multiple gold medals one hundred years earlier, in 1908.
Her triumphs in Beijing brought her instant fame: front-page headlines, an open-top bus parade in her home town and a coveted pair of gold Jimmy Choo shoes. In 2009 she became a celebrity spokesperson for the Encephalitis Society and received an Office of the British Order (OBE) by HRH (Her Royal Highness) Queen Elizabeth at Buckingham Palace. In 2010, the refurbished Sherwood Swimming Baths was renamed the Rebecca Adlington Swimming Centre.
And she hadn't even retired. In fact, between the Beijing and London Olympics, she stood on the podium in every major international event in which she competed, even though she refused to wear the polyurethane suits that helped the world records tumble in 2009. When she won gold in the 800 and silver in the 400m freestyle at the 2011 FINA Championships in Shanghai, expectations were high that she could repeat her double gold medal performance from Beijing in London.
But it was always going to be tougher for her competing at home. In Beijing she was an unknown, which is a tremendous psychological advantage in terms of pressure and surprise. In London, that advantage belonged to a 15-year old American named Katie Ledecky. It just wasn't to be.
When Adlington took bronze in the 400m, she was delighted, for the 400 was her weaker race. But after winning a second bronze in the 800, the disappointment showed.
The British public adored her and when she retired a few months later, at the age of 23, it was as Great Britain's most decorated female Olympian of all time. Since then she has joined the BBC as a popular commentator for the aquatic sports. In 2015, she gave birth to a daughter, Summer, and in 2016 she launched Becky Adlington's Swim Stars, a partnership program designed by Becky for pool operators to make learning to swim fun and enjoyable. Her vision is to ensure that every child leaves primary school able to swim at least 25 meters.