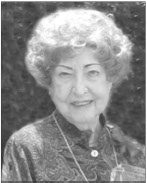 Re Calcaterra (USA)
Honor Pioneer Contributor (2011)
The information on this page was written the year of their induction.
FOR THE RECORD: INTERNATIONAL CLINICIAN AND PROMOT­ER OF SYNCHRONIZED SWIMMING SINCE 1955; U.S. NATIONAL COMMITTEE MEMBER OF AAU, USSS; COACH OF TWO U.S. NA ­TIONAL CHAMPIONS AND TWO INTERNATIONAL CHAMPIONS.
Re Calcaterra was born in 1915 in St. Louis, an area where she lived all her life. In this landlocked state of Missouri, swimming was not on the minds of most people especially after the dirty- water swimming conditions where many athletes became ill at the 1904 St Louis Olympic Games only eleven years earlier. After high school graduation, she went to work as a secretary at
he Brown Shoe Company in St. Louis. Soon married, she took her daughter, Roz, to the YMCA, teaching her to swim at a young age. A few years later, she attended a synchronized swimming clinic and in 1948, at the St. Louis Downtown YMCA, she organized the Clayton Shaw Park Synchronized Swimming Team, which she coached for more than 50 years; producing two national champions, one being daughter Roz, syn­chro's first nomination for the Sullivan Award.
From 1955 to 1970, she coached four synchronized swim­ming teams to keep synchro alive in the Ozark AAU dur­ing the early years. She served on many committees during her tenure with synchro swimming and was the first woman president of the Ozark AA U. In 1961, she organized a six week Pacific and Far East tour to Japan, Hawaii, Guam, Korea, thePhilippines, Okinawa, and Sri Lanka to pro­mote synchronized swimming internationally. Her coach­ing spanned from age group levels to Masters. She was a "Rated" synchronized swimming judge until her death in 2007 at the age of 91 .