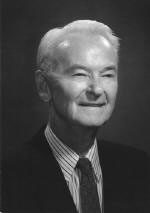 Ray Rude (USA)
Honor Contributor (1992)
The information on this page was written the year of their induction.
FOR THE RECORD: Designed and developed the Duraflex Diving Board which is used in international competition today. The board's flexibility and performance revolutionized the sport of diving.
The great springboard divers of today could not perform their magical dives without the help of Ray Rude, designer of the Duraflex diving board. Because of the flexibility of the board, today's divers are able to execute additional twists, somersaults, and rotations that yesterday's divers were denied due to inferior equipment.
Ray's original board was a rejected aircraft wing panel, the first of its kind designed by Lockheed Aircraft Co. in the mid-1940s. Ray, an aircraft engineer, mounted it as an emergency board in a friend's backyard pool. It was a big success.
Ray began working on developing this new board in his "off" time. By the late 1950s, his first Duraflex board had been tested and accepted by many divers, including Gary Tobian who went on to win the springboard gold medal at the 1960 Olympics in Rome, using a Duraflex board.
It was customary for Olympic divers to bring their own boards to the Games and to try out other boards during practice sessions. When Ray's board became so popular in Rome, two additional boards were flown in to handle the demand. Along with Tobian, Ingrid Kramer of the German Democratic Republic won the women's springboard on a Duraflex board that she had been practicing on for several months. Since that time, the Duraflex has been the accepted board and the only one used in Olympic competition.
The Ray Rude board became standardized equipment at college and university pools and outdoor summer pools, improving the levels of competition allowed by the additional height from the spring. Matt Mann, of the University of Oklahoma, was one of the first college coaches to use the Duraflex. He ordered an additional two boards and raised the ceiling level above the pool to accommodate the lift of the Duraflex.
All the boards are made in Ray's Arcadia Air Products Factory in Sparks, Nevada, now known as Duraflex International. The factory and Ray's innovative designs continue to create boards which take divers to new heights. The addition of the Maxiflex board in 1972 and the "Swiss Cheese" Maxiflex in 1980 allows divers to perform dives they could never do on the wooden Brandsten, Daughters, Clark, or Buck boards of earlier days.
Ray Rude's contributions in diving board development have created uncommon advancements in athletic performance, safety and consistency and have rewritten the history of Olympic and World level diving forever.