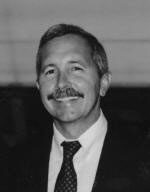 Randy Reese (USA)
Honor Coach (2005)
The information on this page was written the year of their induction.
FOR THE RECORD: 1980, 1984, and 1988 OLYMPIC GAMES: Assistant Coach; 1979 PAN AMERICAN GAMES: Assistant Coach; 1987 PAN PACIFIC GAMES: Assistant Coach; Coach of 19 Olympic Swimmers Winning: 18 gold, 8 silver, 8 bronze medals; Coach of Six Swimmers Setting 16 World Records; 14 U.S.S. National Team Titles; Four NCAA National Team Titles: two men, two women; Four Times NCAA Coach Of The Year.
Once upon a time, there were two brothers, both of whom loved swimming, coaching swimming and being around the swimming pool. One brother was extroverted, jovial and quick to crack a joke; the other was introverted, serious and reluctant to lavish praise. While one was characterized as "just one of the guys", the other was described as creating a "fearsome" presence during workouts. Whatever their methods, both brothers became very successful coaches developing Local, National, World and Olympic Champions. Older brother (by five years) Eddie, was inducted into the International Swimming Hall of Fame in 2002. Now it's Randy's turn.
Using a more serious, hard-line approach in his coaching methods, Randy, so far has placed 35 swimmers onto Olympic Teams winning 18 gold, 8 silver and 9 bronze medals. At the 1984 Olympics alone, 20 Reese-coached swimmers represented eight nations appearing on the award stand 19 times winning 13 gold medals. Were they a team, Reese swimmers would have finished 5th as a nation. His Olympic medal winners include: 1980- David Zubero (SPN) (Bronze- 100 Fly); 1984- Theresa Anderson (USA) (Gold- 100 Back, 400 FR), Tracy Caulkins (USA) (Gold- 200 IM, 400 IM, 400 MR), Frederic Delcourt (FRA) (Silver- 200 Back), Geoff Gabarino (USA) (Gold- 800 FR), Sandy Goss (CAN) (Silver- 400 MR), Mike Heath (USA) (Gold- 400 MR, 400 FR, 800 FR, Silver 200 Free), David Larson (USA) (Gold- 800 FR), Mark Stockwell (AUS) (Silver- 100 Free, 400 FR, Bronze- 400 MR), Dara Torres (USA) (Gold- 400 FR), Rafael Vidal (VEN) (Bronze- 100 Fly), Mary Wayte (USA) (Gold- 200 free, 400 FR (prelims); 1988- Duncan Armstrong (AUS) (Gold- 200 Free), Matt Cetlinski (USA) (Gold- 800 FR), Troy Dalbey (USA) (Gold- 400 FR, 800 FR), Sandy Goss (CAN) (Silver- 400 MR), Anthony Nesty (SUR) (Gold- 100 Fly), Laura Walker (USA) (Bronze- 400 FR), Dara Torres (USA) (Silver- 400 MR (prelims), Bronze- 400 FR), Mary Wayte (USA) (Silver- 400 MR, Bronze- 400 FR) and Paige Zumina (USA) (Bronze- 400 FR (prelims)).
Born in 1946 in Daytona Beach, Florida, Randy was always around water. He swam on the local team and competed for his Mainland High School team. Then it was on to Florida State University as a scholarship athlete, but when diagnosed with a heart murmur during his senior year, he switched to coaching Bim Stultz's freshman team, during a time when collegiate first-year freshman were not permitted to compete on the varsity team. He had found his vocation. Upon graduation from FSU in 1968, he was hired as the men's and women's head swim coach at the Bolles School in Jacksonville, Florida where he was responsible for coaching the high school team as well as the AAU team J.E.T.S. From 1969 to 1971, he developed numerous All-American swimmers.
In 1971, Randy was lured across town to Episcopal High School, where he coached the men's and women's team for another five years. His men's team won the High School National Championship title and many of his swimmers attained All-American status. He also coached his AAU team, the Randy Reese Swim Team. Stand-out swimmers included Julie Teeters, Kris Reeves, Beth Hobart and Lauren Dupree for the women and Allan Poucher, Grey Wright, Dean Hamilton, Jimmy Dupree, Chris Hayes and John Hillencamp for the men.
When University of Florida long-time coach Bill Harlan retired in 1976, Randy took over the reigns of both the men's and women's teams and over the next 14 seasons achieved a dual meet coaching record of 118 wins, 7 losses (.944%) for the women and 100 wins, 21 losses (.826%) for the men, one of the highest in collegiate swim coaching history. During Reese's tenure, his men's and women's teams each won two National Collegiate Championship team titles (men- 1983, 1984), (women- 1979, 1982). His women have won 76 National titles and include Tracy Caulkins (11), Dara Torres (9), Mary Wayte (8), Tami Bruce (7), Stephanie Zunich (7), Carmen Cowart (6), Renee Laravie (5), Paige Zamina (5), Lorraine Perkins (4), Theresa Andrews (3), Jennie Sawyer (3) and Laureen Welting (3). Male swimmers coached under Randy's tenure won 15 NCAA titles and include: Geoff Gaberino (4), Mike Heath (4), Albert Mestre (3), Anthony Nesty (2), Craig Beardsley (2), Duffy Dillon (2), John Hillencamp (2), David Larson (2), Martin Zubero (1), Eric Boyer (1), Matt Cetlinski (1), Troy Dalbey (1), Keith Dickson (1), Don Gibb (1), Sandy Goss (1), Paul Robison (1), Bill Sawchuck (1), Bob Utley (1) and David Zubero (1).
All totaled in collegiate swimming, Randy had 79 women earning more than 500 All-American Honors and 60 men earning more than 200 All-American Honors. He was the 1982 and 1988 Women's NCAA Coach of the Year and Coach of the Year for the men in 1984 and 1985.
Reese was selected assistant U.S. coach for the 1980 Moscow Olympics, 1984 Los Angeles and 1988 Seoul Olympics as well as the 1979 Pan American Games and 1987 Pan Pacific Games.
Randy's USS teams, Florida Aquatic Swim Team (FAST) and Holmes Lumber Aquatic Swim Team, were tops in USA club history winning 14 National Championships. His swimmers have set 16 World Records and include the Queen of the Individual Medley Tracy Caulkins (5), Rowdy Gaines (4), Martin Zubero (2), Craig Beardsley (2), Dara Torres (2) and Duncan Armstrong (1).
Long known for his innovative theories on training and nutrition, Reese's methods are often sought by the top coaches in the United States. Over the years, his Florida swimmers stroked upstream in the nearby Ichetucknee Springs River, did pool workouts fully clothed, and crawled their way up the Florida Field Stadium entrance ramp on their hands with wheels attached to their ankles. Such unusual methods are typical of Reese's creative ideas- which included his special arm paddles to create water resistance while correcting strokes.
Randy went into swimming retirement in 1990 and became regional president of Teamstaff Companies, Inc. in Jacksonville, responsible for the directing and training of brokers for employees leasing sales. In 1996, as owner and CEO, he set up his own Peak Mortgage Company to hire employees and oversee operations.
But "retirement" didn't last long and he re-surfaced at Circle C Ranch Swim Team with a team that later merged with Texas Aquatics to form Long Horn Aquatics, co-coached by brother Eddie. After 35 years, the brothers were together again doing what they do best- coaching swimming. Randy has authored several articles appearing in swimming journals. He co-authored A Scientific Approach to the Sport of Swimming with John Troup and published a second book Building a Championship Season with Randy Reese.
Under his hard, outer shell on the pool deck is a coach with a great sense of humor who wants to see his swimmers succeed both in and out of the water.