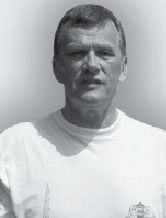 Radovan Miskov (CRO)
Honor Masters Water Polo (2014)
The information on this page was written the year of their induction.
INTERNATIONAL HIGHLIGHTS (SWIMMER): World Points-767, Pre 1986 Points- 0, Total Points-767; Since 1995, he has competed in five age groups (30-34 through 50-54). 43 FINA MASTERS WORLD RECORDS.
He was a versatile athlete who had success in many sports, including handball, basketball and swimming, before he started to play water polo.
Radovan Miskov began his water polo career in 1963 at the Water Polo Club, Jadran-Split. In the ninety-year history of the famous Jadran Club, Radovan has the record of representing the club the most times, in 324 games, and was one of its all-time best players and shooters. He was the forerunner as the modern back, very talented in swimming and playing, with finesse and skill to oppose physically superior competitors.
Seventy times he played for the national team of the former Yugoslavia, and participated in many international tournaments, at a time when the former state, was considered a superpower in water polo.
The end of his playing career, did not finish his sports career, as he has continued to play water polo for the Masters Club, Veteran 70. The club was established in 1970, 16 years before the first FINA World Championships in Tokyo in 1986. Veteran 70 is considered the forerunner of Masters Sports in the water polo world and is one of the oldest and most successful clubs promoting lifelong fitness.
Radovan Miskov has been a member of the Veteran 70 Masters water polo club since 1981. He is considered by many to be its most successful and best player. Miskov was also President for many years at a time when the club, due to the war in Croatia, could not participate at the national level so it had to direct its activity toward international competition and tournaments.
He and his Veteran 70 Masters teammates have won gold or silver medals in his age group in nearly every World Masters Games and World FINA Masters Championships since Perth in 1993, and in tournaments all over the world. He has also won five national titles and has been named top player or top scorer at many events.