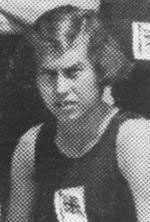 Phyllis Harding (GBR)
Honor Pioneer Swimmer (1995)
The information on this page was written the year of their induction.
FOR THE RECORD: 1924 OLYMPIC GAMES: silver (100m backstroke); 1928 OLYMPIC GAMES: participant; 1932 OLYMPIC GAMES: 4th (100m backstroke); 1936 OLYMPIC GAMES: 7th (100m backstroke); 2 WORLD RECORDS: 100m and 200m backstroke (1932); 1930 BRITISH EMPIRE GAMES: gold (4x100m freestyle relay), bronze (100m backstroke); 1934 BRITISH EMPIRE GAMES; gold (100m backstroke), silver (4x100m freestyle relay); 1927 EUROPEAN CHAMPIONSHIPS: bronze (100m backstroke); 1931 EUROPEAN CHAMPIONSHIPS: silver (100m backstroke); 1934 EUROPEAN CHAMPIONSHIPS: 4th (100m backstroke); 2 NATIONAL CHAMPIONSHIP titles: 100m backstroke.
Phyllis Harding competed in the first Olympic backstroke race for women in 1924. At the Paris Olympics, she won the silver medal in the 100m backstroke behind the world record holder Sybil Bauer of the US and ahead of Aileen Riggin of the US who had won the springboard diving event in 1920.
Phyllis continued her Olympic career for the next three Olympiads, becoming the first woman to compete in four Olympic Games. She was fourth in 1932 and seventh in 1936 and held the world record in the 100m backstroke in 1932 until it was broken by Hall of Famer Eleanor Holm. She also held the world record for a span of four years (1932-1935) in the 200m backstroke, until Holland's Rie Masterbroek broke her time.
Phyllis got better with time, for at the age of 28, in her last Olympic Games, she swam her fastest 100m backstroke in a time of 1:21.5. Her three European Championship appearances in the backstroke included bronzes in 1927 (the first year women's events were in the program) and 1931 and a fourth place in 1934.
The British Empire Games and Commonwealth Games did not begin until the seventh year of her international swimming career. At the first meet in 1930, she was in the 100 yard backstroke and in 1934 at age 26, she won a gold in the same event and a silver on the medley relay.
Miss Harding's astonishing career brought her only two ASA titles (1935, 1936). Her twelve years at the top were during a time of three other great British Swimmers, Joyce Cooper, Valerie Davies, and Ellen King – who themselves were Olympic backstroke medalists.