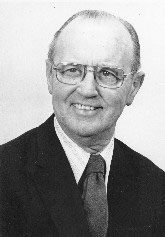 Phil Moriarty (USA)
Honor Coach (1980)
The information on this page was written the year of their induction.
FOR THE RECORD: Yale Swimming and Diving Coach (Head Swim Coach 1959-1976 and Diving Coach 1939-1976); 1960 U.S. Olympic Diving Coach; 1965 U.S. Maccabiah Games Coach; Teams won 195 dual meets, lost 25; Eastern Seaboard Conferences: 9; Eastern Intercollegiate Championships: 10; 1971 NCAA Division I Coach of the Year; 1974 Fred A. Cady Award; 1978 Collegiate and Scholastic Award; Chairman, NCAA Swimming Rules Committee and National AAU Records Committee.
Number one man to the famed Bob Kiphuth for 22 of his 44 years as a Yale Swim Coach, Phil Moriarty followed this difficult act with a significant record of his own. Moriarty turned out many world record holders and Olympic champions; Steve Clark, Don Schollander and John Nelson are included in that group. Although the Head Swim Coach for only 17 years, Moriarty handled the Yale divers for 37 years including Jim Cook, National AAU Indoor Diving Champion in the one meter springboard. His diving-coaching career climaxed when he was the U.S. Olympic Diving Coach in Rome (1960) after playing a major coaching role with Olympic Springboard Champions "Skippy" Browning (1952) and Bobby Clotworthy (1956). As a summertime coach at the St. Louis Country Club for 31 years, his outstanding pupils were 1969 National AAU Champion Victoria King at 500 yards. He more recently developed the springboard diving talents of nationally ranked Julie Capps. He authored two books "Springboard Diving" and "The Father and Son Swimming Book", and developed and designed the backstroke starting block which bears his name.