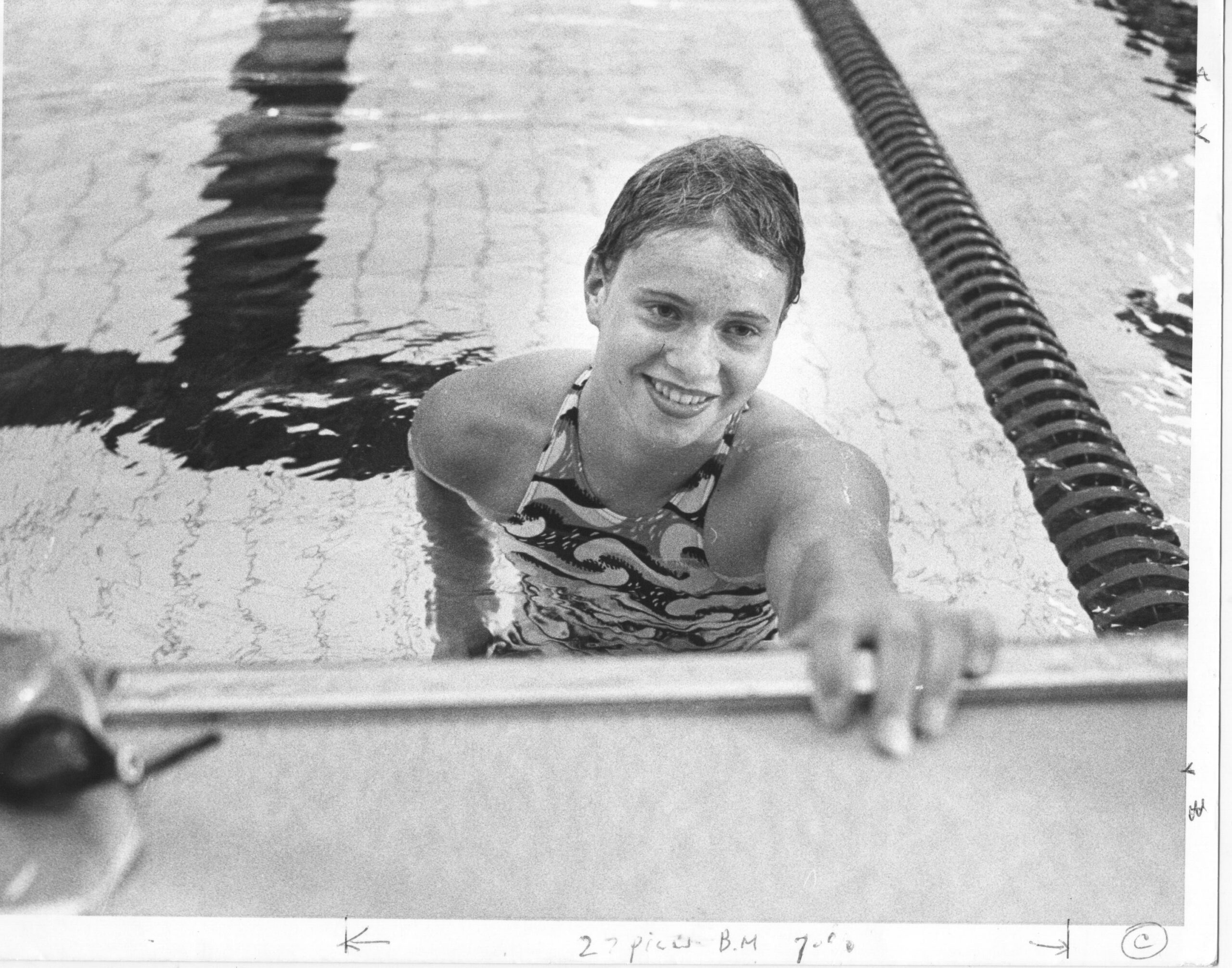 Petra Thumer (GDR)
Honor Swimmer (1987)
The information on this page was written the year of their induction.
FOR THE RECORD: OLYMPIC GAMES: 1976 gold (400m, 800m freestyle); WORLD RECORDS: 5 (400m, 800m freestyle); EUROPEAN CHAMPIONSHIPS: 1977 (200m, 400m, 800m freestyle); USSR-DDR MEET: 1977 gold (400m, 800m freestyle); 1978 gold (800m freestyle).
Barbara Krause, the world record holder in 400 meter freestyle and almost every other freestyle event, was sick at home in East Germany, but the GDR team hardly missed her as a relatively unknown, Petra Thumer, won the 400 by one and one-half feet over USA's Shirley Babashoff. Both were under Krause's world record. Babashoff was America's best swimmer in 1976 and the longer the event, the better she got. Therefore, it is an even greater credit to Thumer that she again set a world record winning the 800 freestyle, the longest women's freestyle event in the Olympics up until that time. She was largely responsible for the USA being shut out of individual women's Olympic swimming medals for the first time since they first entered a woman's team in 1920. She took Miss Babashoff in her two best events and world records were necessary to do it in both races.
Petra Thumer went on to set three more world records in her two pet events in 1977 and added the 200 in her tally of three golds at the 1977 European Championships. She would up her brief but brilliant career on a down note as she failed to place in the 1978 Berlin World Championships in all three of the middle distance freestyle events she had owned for two years.
Doping Disclaimer: In a German court of law, after this swimmer was inducted into the International Swimming Hall of Fame, team officials confessed to administering performance enhancing drugs to this swimmer, who therefore obtained an illegal and unfair advantage over other athletes. For more information, click here.