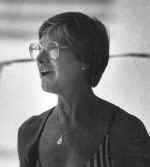 Peg Hogan (USA)
Honor Masters Synchronized / Artistic Swimmer (2003)
The information on this page was written the year of their induction.
FOR THE RECORD: 1985 MASTERS WORLD CHAMPIONSHIPS: gold (solo, duet, figures); 1987 PAN AMERICAN MASTERS CHAMPIONSHIPS: gold (solo, figures); 55 U.S. SYNCHRONIZED SWIMMING MASTERS NATIONAL CHAMPIONSHIPS: gold (solo, duet, figures); USSS Masters National Chairperson: 3 years, 1980 USSS Masters Athlete of the Year.
Since the inception of Masters Synchronized Swimming in 1977, Peg Hogan has won the solo event every year at the U.S. National Championships, for a total of 25 years, earning 17 duet and 19 figures gold medals. Throughout her precedent-setting winning streak, Hogan scored the highest figures routine scores in her age group. She is the only Masters athlete to coach three teams in one year- the University of Richmond Varsity Synchronized Swimming Team, the Octopi of Richmond age group team, and the Ramapo Aqua Masters Synchro Team.
In 1985, at the first-ever Masters Synchronized Swimming World Championships in Toronto, Peg swept the gold medals in the 50-54 age group for the solo and figure events. In the duet event, she teamed up with Laura Rich, a partner almost half her age, to win another gold in one of the largest age groups in the competition. At the Pan American Masters Synchronized Swimming Championships, Peg repeated her gold medal performances in her age group for the solo and figures competition.
A self-taught swimmer who swam on her high school team in Maryland, Peg Hogan knew little about Synchronized swimming until her junior year at the University of Maryland when she attended a water show and jumped in with full enthusiasm to try her first synchro moves. It was a perfect fit for the physical education and dance major; a day that would change her life. You might say she found her "Fountain of Youth," where kids of all ages can play and perform.
After graduation in 1955, Hogan joined the Baltimore YWCA Aqualites where she was coached by Dot Muhly. Judy McGowan, U.S. FINA Synchronized Swimming representative, became her duet partner for nine years. In 1963 she moved from swimmer to coach of the team. The delicate mix of academics and athletics drew her back to coaching seven years later where she taught at Lynchburg College (Virginia).
Hogan founded the National Institute of Creative Aquatics, which emphasizes swimming-to-a-theme and creativity rather than accuracy in skills and strength as in more competitive synchronized swimming. Her swimmers went on to win many aquatic art awards.
In 1976, Peg moved to the University of Richmond (Virginia) and for the next 25 years taught aquatics in the physical education department. It was here that she coached a club team, the Richmond Dolpholinas, and in 1977 formed an age group and senior club, the Octopi of Richmond. She coached the women's varsity swimming team and a small synchro club team. She brought the synchro team to the varsity sport level by 1981. It would become one of the top three collegiate teams in the nation. Her athletes won numerous academic and athletic honors. In 1988, she coached the Ramapo (New Jersey) Aqua Masters. She retired from the University in 2000.
Peg served as U.S. Masters Synchronized Swimming National Chairperson for three years and was named the 1980 USSS Masters Athlete of the Year. She coached the South Zone Teams at the Olympic Festival and regularly conducts skill development clinics for competitors of all ages. Peg has served as a judge since 1961 and has held a national rating since 1977. She has judged the U.S. Olympic Trials since 1984.
Peg served as National Judges Committee Chairperson, Masters National Chairperson, Education Committee Member, Collegiate National Chairperson, Middle Atlantic Association Chairperson, Virginia Association Judges Training Chairperson, the Virginia Association Education Chairperson, and remains the President of the National Institute of Creative Aquatics. She received the Lillian MacKellar Distinguished Service Award, 1998.
Peg Hogan has a gift for developing swimmers with no synchro experience, bringing their creative talents to light, and making them integral members of the team. Peg exemplifies the true meaning of sportsmanship and serves as a role model, demonstrating her commitment to fair play, honesty and integrity. She instills these same values and high ideals in helping her student/ athletes be successful in all of their pursuits.
"A team is people, people who care, who feel enough to be a team," Hogan said, "… it's friendship, concern, sacrifice." She wrote about the many benefits of the sport, how it enhances a person's flexibility, agility, strength and power, regardless of age, demonstrating through years of tireless service- that beauty is both ageless and timeless.
Peg Hogan will be embraced by the Masters Synchronized Swimming community for many years to come; for her contributions, her peaceful smile and gracious demeanor; for her unwavering, selfless service and dedication to the sport. She has graciously shared her gifts of inspiration, talent and time over a career that spans a lifetime – more than 40 years.