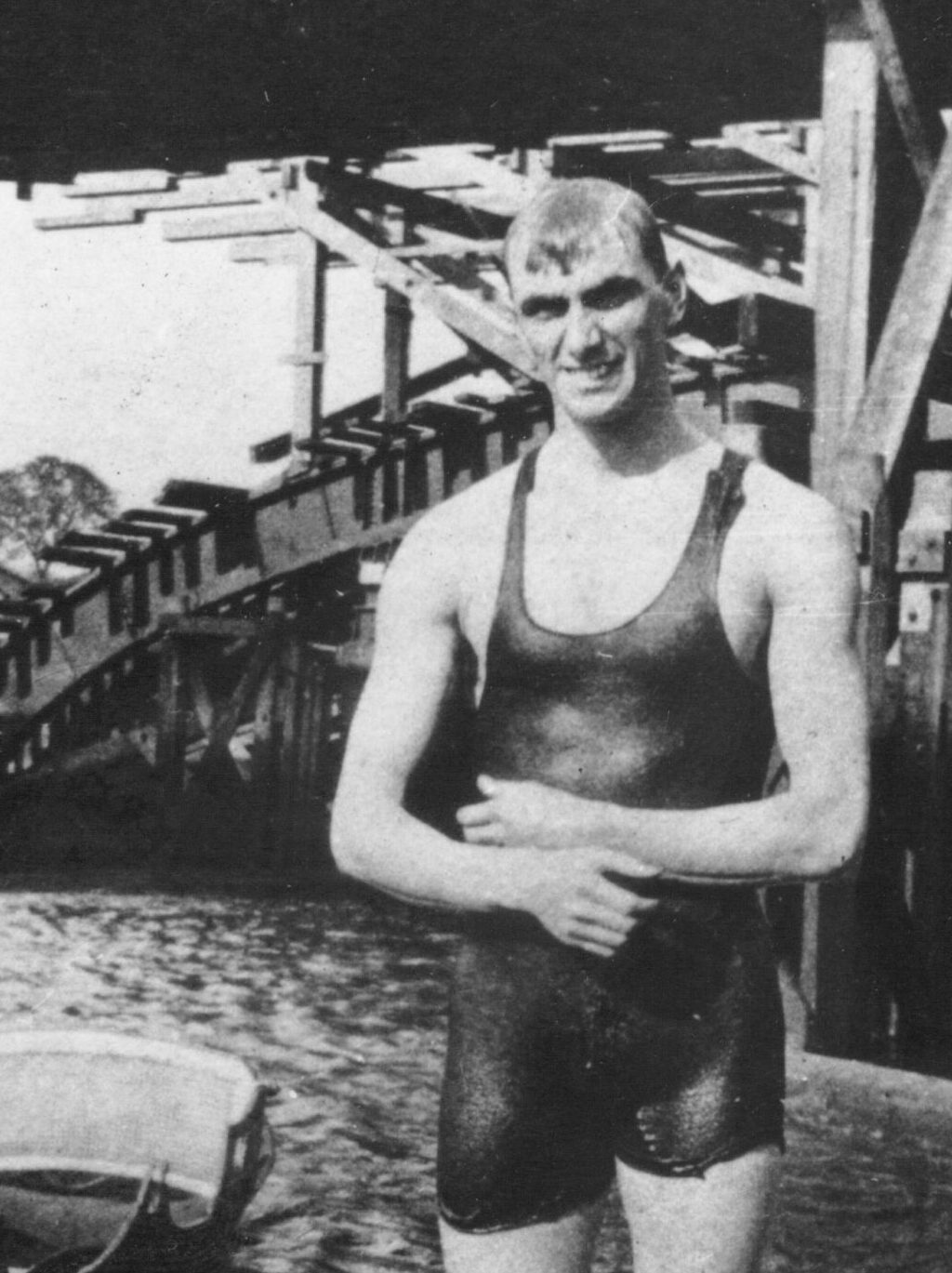 Paul Radmilovic (GBR)
Honor Water Polo (1967)
The information on this page was written the year of their induction.
FOR THE RECORD: OLYMPIC GAMES: 1906 4th (100m freestyle), 6th (400m freestyle); 1908 gold (4x200m freestyle relay; water polo); 1912 gold (water polo); 1920 gold (water polo); ENGLISH LONG DISTANCE CHAMPIONSHIP: 1907, 1925; ENGLISH 1 MILE CHAMPIONSHIP: 1926; ENGLISH NATIONALS; 1909 (100yd freestyle).
Paul Radmilovic represented his country (Great Britain) in five Olympic Games, a record that would have been six if the First World War had not cancelled the 1916 Games. On two of these occasions, 1912 and 1920, he captained the winning British water polo team.
The British invented water polo and dominated the game for 25 years, so it is fitting that their greatest star, Paul Radmilovic, make the Swimming Hall of Fame. Now 80, this four-time Olympic champion has the distinction of gold medals in both swimming and water polo. He was part of Great Britain's winning 800 meter relay in 1908, won water polo golds in 1908, 1912 and 1920. In 1925, the immortal "Raddy" won every British freestyle title but one. The quarter mile escaped him in a sweep from 100 yards to 5 miles but in 1965, at age 78, he still swam his quarter mile each day.
"Swimming Times" had this to say about his 1925 performances: ". . . Mr. P. Radmilovic who surprised the swimming world by his wonderful achievement in winning the long distance championship of England, which he had also won 18 years previously. His time in 1907 was 69 minutes, 15.2 seconds and in 1925, 65 minutes, 6.4 seconds. J. A. Jarvis won this event seven times and Hatfield five, but no swimmer appears to have equaled Radilovic's striking performance for swimming and winning the long distance championships 18 years after his previous victory. Until last year he had never held the 1 mile championship of England, but at the East India docks he had quite a comfortable win. "Raddy" believes in careful and systematic training so that before the race, he has some idea as to what the final result would be. Before the mile championship, he is credited with saying: "I shall beat 24 minutes, 30 seconds." He won easily in 24.22. How many of the younger generation could demonstrate such judgment of pace over a distance? Mr. Radmilovic has been a sprinter as well as a long distance swimmer, and in 1909, won the national 100 yards. He represented Great Britain in five: the Athens, London, Stockholm, Antwerp and Paris Olympics."
Paul Radmilovic was an international swimmer and water polo player from age 16 until he was 45. He symbolizes water polo greatness in the Swimming Hall of Fame's desire to be both international and representative of all elements in swimming. Raddy was born in 1877, just 6 years before the death of Britain's first Hall of Famer, Capt. Matthew Webb, first man to swim the English Channel. Between them, these two Englishmen span the entire history of modern swimming.