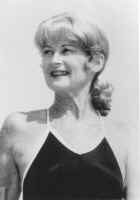 Patty Robinson Fulton (USA)
Honor Masters Diver (2001)
The information on this page was written the year of their induction.
FOR THE RECORD: 32 MASTERS WORLD DIVING TITLES: 12 (1m springboard), 11 (3m springboard), 9 (10m platform); 7 SENIOR OLYMPICS TITLES: 4 (1m springboard), 3 (3m springboard); 5 MASTERS WORLD SYNCHRONIZED SWIMMING TITLES; 3 solo, 2 figures; 119 MASTERS U. S. NATIONAL CHAMPIONSHIPS: 31 (1m springboard), 30 (3m springboard), 25 (grand masters), 26 (10m platform); 20 ALL-AMERICAN TITLES: (1980- 1999); 15 times Masters Diver of the Year Award.
Since 1976, Patty Robinson Fulton has been diving Masters and winning National Championships every year since. Beginning in the 55 – 59 age group, she has won 32 Masters World Diving titles: 12 on I in springboard, 11 on 3m springboard and 9 on the 10m platform.
Born in 1920 in San Francisco, Patty began swimming and diving at age seven. Among other swims, she swam the Golden Gate Bridge Swim but preferred diving, and by the time she was a teenager, in the 1930s, she had been runner-up three times in national diving competitions. She was asked to join the Billy Rose Aquacades in 1938 but declined so as not to lose her amateur status in order to try for the Olympic Games two years later. She had qualified for the Olympic Trials, but World War II put an end to her Olympic dream when the Games were canceled in 1940. On Patty's suggestion, the Billy Rose Aquacade picked an unknown Esther Williams instead of Patty.
But she loved being in the water and soon after, under her newly married name of McPherson, Patty joined the Minnesota Aquatennial and Aqua Follies, performing in water shows throughout the U.S. and entertaining U.S. troops abroad during the War. In 1947, she joined the Buster Crabbe Aqua Parade and Follies with Buster Crabbe, Johnny Weissmuller, Vicki Draves and many more swimming and diving greats. For the next 21 years, she became one of the premier divers and synchronized swimmers at the shows. When not performing, Patty taught swimming lessons to Minnesota youngsters and all children who needed to know how to swim. Twenty years later, and now as Mrs. Leonard Webber, she retired from performing and became athletic director of various California athletic clubs including the Athens Athletic Club, the Women's Athletic Club, Fairmont Pool and Leisure World.
She obtained a degree in astronomy from the University of California Berkeley, building her own reflective telescope. In 1976, surviving her husband, she married David Fulton who encouraged her to participate in Masters diving. She said that getting back into Masters diving was like learning to dive all over again. After a 30-year absence, the pools were deeper and the diving boards were much springier "causing you to go sailing through the air." But as a Masters diver, she was the only female to tour Russia on an historic Masters diving team in 1990. She won 119 Masters U.S. National Championships on springboard and platform and over a 20-year period she won 20 All-American titles. She was 15 times Masters Diver of the Year. She was the epitome of good skills and successes, she embellished those around her with her warm and friendly personality, always promoting Masters diving and those who participated in it. She was active in the program until her untimely death in February, 2001.