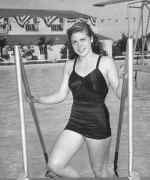 Patty Elsener (USA)
Honor Diver (2002)
The information on this page was written the year of their induction.
FOR THE RECORD: 1948 OLYMPIC GAMES: silver (10m platform); bronze (3m springboard); THREE U.S. NATIONAL CHAMPIONSHIPS: 3m springboard.
Between the years 1937 and 1947, no international competitions were held in which the world could compete. World War II had caused the cancellation of the 1940 and 1944 Olympic Games. When the Olympic Games of 1948 were announced to be in London, athletes around the world scrambled to compete. Patty Elsener was one of them.
And compete she did. In both the 3m springboard and 10m platform, Hall of Fame diver, Vicki Draves, won the gold medals. But it was Patty who was right behind her in the scoring, receiving the silver medal in the 10m platform and the bronze medal in the 3m springboard. This was the first time in 12 years that the world had come together and Patty exhibited her presence.
For Patty, it all began in 1941 when her parents took her to San Francisco's Fairmont Hotel Plunge. She had taught herself to swim. Summer recreational coach Clyde Devine encouraged her parents to take her to dive under coach Phil Patterson. Hall of Famer Helen Crlenkovich was training under Phil, and Patty became Helen's protégé. For the next four years while a student in
the San Mateo school system, Patty would ride her bike two miles to the train station, take the train to San Francisco, then a bus and then a cable car in order to train at Fairmont.
In the summer of 1945, the pool closed and Patty moved to Crystal Plunge joining Charlie Sava's team. Crystal did not have a decent diving board so Ernie Brandsten of Stanford University and a maker of diving boards, gave Patty her own board and standard. She was the only diver on the Crystal Plunge team and Frank McGuigan was her coach. In 1946 and 1947, she won the
3 meter indoor title in Seattle, Washington. She was unable to participate on the 1 meter board because no 1 meter board existed at Crystal. She also did a little competitive swimming at Crystal. At the 1946 Nationals, after winning the 3 meter, Charlie Sava put her in the 300yd medley relay, B team. She borrowed a racing suit and swam the backstroke against teammate Ann Curtis who swam for the A team. Patty finished just behind backstroke National Champion Susan Zimmerman of the Multnomah Club and Anne to take a third place for the relay.
In the summer of 1947, after graduation from high school, Patty went to Santa Barbara to train with Hall of Fame Coach Fred Cady. On the weekends, Vi Cady took care of her. During the week she lived in a rented room over a garage. But from September to almost February of 1948, she became very ill, moved back home and hardly did any diving. It was Coach Jimmy Hughes who rescued her and began to rebuild her diving. He introduced her to platform diving which was difficult for her because she had acrophobia, a fear of heights. It was very difficult for Patty to climb the 33 feet of stairs. She had to learn tower diving in a very short time. Not having the proper build-up, she kept hitting her left wrist into her head on entries causing a lump on her head
and a badly damaged wrist. Consequently, the Detroit Olympic Trials of 1948 were tough for Patty. But although she dove with a bandaged wrist, she made the Olympic Team in the two events.
At the London Games, Olympic Coach Fred Cady didn't want Patty to further injure her wrist, so he banned any platform practice until after the 3 meter springboard was over. On the springboard, she won the bronze medal, narrowly defeated by Vicki Draves and Zoe Ann Olson, creating an American sweep. After receiving the bronze medal, Cady asked if she wanted to drop out of the tower event. Her answer, an emphatic "NO." She was not going to give up a spot on the team that someone else could have had. She felt it was her duty and obligation to dive. She dove to a silver medal for the 10 meter platform just behind Vicki Draves and ahead of Birte Christofferse of Denmark.