Patty Caretto (USA)
Honor Swimmer (1987)
The information on this page was written the year of their induction.
FOR THE RECORD: WORLD RECORDS: 7 (800m, 1500m, 800yd, 1650yd freestyle; 1 relay); AAU NATIONALS: 5 (500yd, 1650yd, 1500m freestyle; 1 relay); AMERICAN RECORDS: (800yd, 1650yd, 400m, 1500m freestyle; 1 relay).
Patty Caretto revolutionized women's swimming with her windmill stroke — a continuous arm turnover and a two beat kick…She was the second youngest, the shortest and the smallest "giant" to set a world record at 13 years old, 98 pounds and 5 feet 1 inch tall. Patty's specialty was the 1500 meter freestyle (metric mile), a distance swum by women everywhere but in the Olympics.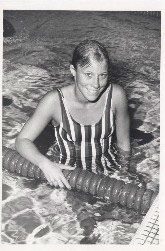 She went from a national champion and a world record holder in the summer of 1964 to the high point winner at the U.S. Indoor Nationals in the Spring of 1965, but missed the 1964 Olympics in November because she failed in a 400 meter swim-off against three world record holders at the U.S. Olympic Trials. Ironically, again, the only younger world record holder ever was backstroker Karen Muir (12 years old) of South Africa who also missed the 1964 Olympics because her country was banned by the International Olympic Committee. These two world record holders got to meet and swim in the same pool the next winter when Patty and her coach Don Gambril toured South Africa giving clinics and demonstrations in 1965.
This five foot dynamo broke world records eight times in the 1500 and 800 meter freestyle beating several Hall of Famers en route. She was swimming's "queen of the mile" and held American records from the quarter mile on up. Patty was a swimming workaholic, a role model for her coach and to every swimmer who knew her.