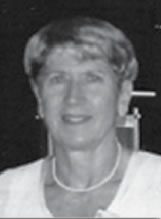 Pam Hutchings (AUS)
Honor Masters Swimmer (2014)
The information on this page was written the year of their induction.
INTERNATIONAL HIGHLIGHTS (SWIMMER): World Points – 954, Pre-1986 Points- 0. Total Points – 954. Since 1987, she has competed in six age groups (50-54 through 75-79); 28 FINA MASTERS WORLD RECORDS.
Pam Singleton competed in the 1956 Melbourne Olympics in the 100 meter backstroke event. She later became Pam Hutchings and began competing in Masters swimming in 1987. She competes regularly for her team, the Seaside Pirates, in BPS meets as well as state, national and international meets for her birth country of Australia.
Pam has been in the Top Ten for 24 years and has set 28 FINA Masters World Records in the freestyle and backstroke events. She has competed in six FINA World Championships since 1990, winning 19 gold, 11 silver and one bronze medal.
This 78 year old Aussie likes to swim distances of 50, 100 and 200 meters. She has set 16 long course and 12 short course FINA Masters World Records in the freestyle and backstroke. In world rankings since 1986, she has 37- number 1, 47- number 2 and 13- number 3 long course and 28- number 1, 33- number 2 and 16- number 3 short course for a total of 65- number 1, 80- number 2 and 29- number 3 total world rankings in the freestyle and backstroke.