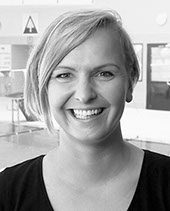 Otylia Jedrzejczak (POL)
Honor Swimmer (2019)
The information on this page was written the year of their induction.
FOR THE RECORD: 2004 OLYMPIC GAMES: gold (200 m butterfly), silver (400m freestyle, 100m butterfly); 2001 WORLD CHAMPIONSHIPS (LC): silver (100m butterfly); 2003 WORLD CHAMPIONSHIPS (LC): gold (200m butterfly), silver (100m butterfly); 2005 WORLD CHAMPIONSHIPS (LC): gold (200m butterfly), bronze (100m butterfly); 2007 WORLD CHAMPIONSHIPS (LC): silver (400m freestyle), bronze (200m butterfly) 2000 World Championships (SC): bronze (200m butterfly); 5 EUROPEAN CHAMPIONSHIPS (LC): 5 gold, 3 silver, 2 bronze; 3 EUROPEAN CHAMPIONSHIPS (SC): 3 gold, 1 silver, 1 bronze; 2005 UNIVERSIADE: gold (100m butterfly, 200m butterfly, 200m freestyle)
She was born in Ruda Slaska, Poland in December 1983 and began swimming at six-years-old because doctors thought it would help the slight curvature in her spine. She originally had no interest in the sport, but her father had the last word.
In high school, she started to take swimming seriously, and in 1999 at age 15, Otylia Jedrzejczak won the European Junior titles in the 100 and 200m butterfly.
A year later at the age of 16, Otylia won the 200m butterfly at the 2000 European Senior Championships. Later that year, she represented Poland at the 2000 Olympic Games in Sydney, where she was the youngest on the entire Polish team. In Sydney, she was fifth in the 200 butterfly, but it was clear her career had just begun. Two years later at the 2002 European Championships, Otylia became the first Polish female swimmer to break a world record when she swam a 2:05.78 in the 200 butterfly.
Leading up to the 2004 Olympic Games in Athens, Otylia was reading Oscar and the Lady in Pink, a novel about a ten-year-old boy dying of leukemia as told through his letters to God. Otylia was deeply affected by the story and vowed that if she won a gold medal in Athens, she would auction it off and give the proceeds to a charity that helps children in Poland suffering with leukemia.
Otylia won the 200 butterfly gold medal in Athens, and out-touched Australia's Petria Thomas to become the first swimmer from Poland to win an Olympic gold medal. As promised, Otylia auctioned off her gold medal and it sold for $101,000 US Dollars.
In 2005, Otylia successfully defended her 200 butterfly World Championship title, taking down her world record in the process with a 2:05.61.
Two months after the World Championships, Otylia was severely injured in a car accident that tragically killed her 19-year-old brother, Szymon. The accident and its aftermath took its toll on Otylia and she took a break from training for nearly eight months.
Leading up to the 2008 Olympic Games in Beijing, Otylia was again one of the favorites to win the 200 butterfly gold medal, but did not have the meet she was hoping for. She finished fourth in the 200 butterfly, missing out on a medal by less than a second.
She initially said she was most likely going to retire from swimming after 2008, but continued her career and qualified for the 2012 Olympic Games in London. There she finished 16th in the 200 fly at the age of 28. She retired after London with three Olympic medals and ten World Championship medals to her name.
She is the founder of the Otylia Jedrzejczak Foundation, which strives to prepare young swimmers, mentally and physically, to be able to compete for medals at the Olympic Games. Her goal is to help athletes benefit from the positive impact of sport she experienced. She says that sport is a great adventure of life, which teaches consistency and determination in pursuing a goal, and failure is a stop on the way to success.
We welcome our first honoree from Poland into the International Swimming Hall of Fame.