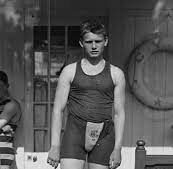 Otto Scheff (AUT)
Honor Pioneer Swimmer (1988)
The information on this page was written the year of their induction.
FOR THE RECORD: OLYMPIC GAMES: 1906 gold (400m freestyle), bronze (1 mile freestyle); 1908 bronze (400m freestyle); WORLD RECORDS: 1908-1912 (1000m freestyle).
Otto Scheff was the last in line of the great Austrian and Hungarian swimmers who were a dominant force in the very early days of Olympic swimming. Following the line of Neumann, Hajos and de Halmay, Scheff set four world records from 1906 through 1908. He held the 1000 meter world record for four years until it was broken by Hall of Famer George Hodgson (Canada) in 1912. Scheff won the Olympic gold in 1906 (Athens) in the 400 meter freestyle and the bronze for the 1500 meter freestyle also in 1906. In 1908, Scheff took his second bronze in the 400 meter freestyle and is credited with being the world's premier middle distance freestyler of his trudgeon-stroke time.