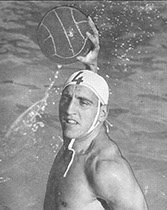 Osvaldo Codaro (ARG)
Honor Water Polo (2019)
The information on this page was written the year of their induction.
FOR THE RECORD: 1948 OLYMPIC GAMES: 9th; 1952 OLYMPIC GAMES: 13th; 1960 OLYMPIC GAMES: 10th; 1951 PAN AMERICAN GAMES: gold; 1955 PAN AMERICAN GAMES: gold; 1959 PAN AMERICAN GAMES: silver; 1963 PAN AMERICAN GAMES: bronze; 1971 PAN AMERICAN GAMES: 5th; 1949 SOUTH AMERICAN GAMES: silver; 1952 SOUTH AMERICAN GAMES: gold; 1956 SOUTH AMERICAN GAMES: gold; 1958 SOUTH AMERICAN GAMES: gold; 1960 SOUTH AMERICAN GAMES: gold; 1963 SOUTH AMERICAN GAMES: silver; 1965 SOUTH AMERICAN GAMES: silver; ARGENTINA NATIONAL CHAMPION TWENTY- TWO TIMES; NATIONAL RECORD HOLDER: 1951(100m freestyle); NATIONAL CHAMPION: (100m, 200m, 400m freestyle) in 1950,1951, 1952, 1953; SOUTH AMERICAN CHAMPION: 4x100m freestyle with South American Record in 1953; COACH OF MEN'S JUNIOR NATIONAL TEAM: 1975-1981.
In the late 1920s, the European continent was in a depression and while communist and fascist factions were fighting for power in Spain, Argentina became an oasis of prosperity and peace, and the preeminent center of Spanish culture and sport. Swimming was particularly popular after Alberto Zorilla won Olympic gold in 1928. This was the condition in Argentina when Osvaldo Horacio Codaro was born on December 9, 1930, in the Avellaneda district of Buenos Aires.
"Pacha" as he was affectionately known, learned to swim at the age of ten and began his glorious athletic career two years later, swimming under coach Santiago Gentile at "Club Atlético Independiente," renowned today as one of the world's most famous football clubs.
At 14, Gentile introduced Pacha to water polo and it quickly became his passion. He found it to be the perfect complement to his swimming. The more he practiced one, the better he became at the other. Always big for his age, by the time he was 17 he had grown to be 6'3" tall and weighed 210 pounds. While he was the Junior National Champion in the 100, 200 and 400m freestyle, it was clear that his incredible physique was better suited for the sport of water polo.
He joined the national team of Argentina in 1947 and at the 1948 Olympic Games in London, he was the youngest of the 156 water polo players from 18 different countries to play at the London Olympics, at 17 years and 242 days of age. He was also one of the biggest.
In 1950, 20 year-old Pacha graced the cover of El Grafico, the Argentinian and South American Sports Illustrated. The next year, with President Juan Peron and wife Eva cheering him on, he became a national hero for almost single-handedly leading Argentina to victory over the favored teams from Brazil and America, to win the first edition of the Pan American Games. Argentina would win again in 1955 and a silver in Chicago in 1959.
Codaro was one of the first great "Big Men" in the sport of water polo and the prototype for the modern player. He was appreciated not only for his exceptional size and physical strength, but also for his swimming, ball handling skills and understanding of the game.
In the 1950s his team won four of four South American titles and two golds and a silver medal at three Pan American Games. He competed in three Olympic Games and in 1960, was selected by a panel of experts as one of the three best players in the world, although his team finished ninth in Rome. Over his 27 years playing water polo, his teams won the Argentine National Championships an astounding 22 times.
With his induction, ISHOF recognizes Osvaldo Codaro for his many contributions to the sport during the golden age of Argentinian and South American water polo.