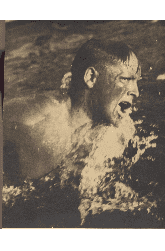 Oliver Halasy (HUN)
Honor Water Polo (1978)
The information on this page was written the year of their induction.
FOR THE RECORD: OLYMPIC GAMES: 1928 silver; 1932, 1936 gold; EUROPEAN CHAMPIONSHIPS: (1500m freestyle); HUNGARIAN Individual Swimming Titles: 25 (400m to 1500m freestyle).
Oliver Halasy lost his left foot in a childhood streetcar accident and yet went on to a sensational swimming and water polo career. He was considered the greatest halfback of his epic (1930's). Even more remarkable was Halasy's swimming performance with one leg. He was the European Champion at 1500 meters and won 25 Hungarian National titles in swimming. He was a popular natural leader with a great personality. Ironically, though his handicap exempted him from military service, he was shot by a Russian soldier in 1946 while returning to his home by taxi late at night. His wife gave birth to this third child a few days after she buried her husband.