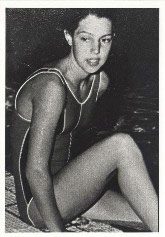 Novella Calligaris (ITA)
Honor Swimmer (1986)
The information on this page was written the year of their induction.
FOR THE RECORD: OLYMPIC GAMES: 1972 silver (400m freestyle), bronze (800m freestyle, 400m individual medley); WORLD RECORDS: 1 (1973: 800m freestyle); WORLD CHAMPIONSHIPS: 1973 gold (800m freestyle), bronze (400m freestyle, 400m individual medley); EUROPEAN CHAMPIONSHIPS: 1974 silver (800m freestyle), bronze (400m freestyle); 1970 bronze (800m freestyle); ITALIAN CHAMPIONSHIPS: 36 (100m, 200m, 400m, 800m freestyle; 200m backstroke; 200m butterfly; 200m, 400m individual medley).
Tiny Novella Calligaris was petite but all guts — the first Italian to win a major swimming competition. (The 1973 Belgrade World Championship's 800 Meter Freestyle.) She was Italy's all-time greatest woman swimmer who set 82 Italian and 21 European records in distances that strained the Italian concept of what a Latin woman was suited to do (all but her coach Dennerlein). Her 36 Italian Championships, European and world acclaim, were mostly rugged distances in 200, 400, and 800 Meter Freestyle, 200 Meter Backstroke, 200 Meter Butterfly, and 200 and 400 Individual Medley.
Novella overcame the lack of first class competition in her own country and went abroad to win eight medals in major international competitions: three Olympic Medals at Munich (1972), three World Championship medals at Belgrade (1973), and two European Championship medals at Barcelona (1976). The "lone swimmer" joins the great Italian diver (Klaus Dibiasi) and water polo player (Mario Majoni) as honorees in the International Swimming Hall of Fame. She is currently coaching the famed Guistiniana Sports Club and training the Italian Junior National team in Rome.