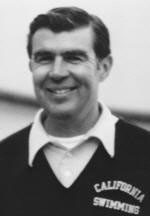 Nort Thornton (USA)
Honor Coach (1995)
The information on this page was written the year of their induction.
FOR THE RECORD: 1981 WORLD CHAMPIONSHIP GAMES: Coach; 1979 FINA CUP: Coach; 1983 PAN AMERICAN GAMES: Assistant Coach; 1986 WORLD CHAMPIONSHIPS: Assistant Coach; 1992 OLYMPIC GAMES: Assistant Coach; Coach of 8 Olympic medalists; Coach of 3 World Record holders; 2 NCAA NATIONAL TEAM CHAMPIONSHIPS.
Some would say that this California coach has the "Midas touch", for everywhere he goes, champions appear. Yet this distinguished coach explains that there is no secret to his success. He simply "creates an environment where champions are inevitable."
Nort Thornton's coaching career displays a long history of success at virtually every level of competition. He began coaching at Los Altos High School where his team broke thirteen out of twenty national records. At Foothill Junior College, he built the school into the top junior college program in the nation.
But, perhaps Coach Thornton is best known for his legacy throughout the past two decades at the University of California, Berkeley. From the moment he touched the team, records were broken and champions were created. In 1979 and 1980, his talent for bringing out the best in his team inspired them to win back-to-back, coveted NCAA National titles. he has been named the NCAA "Coach of the Year" — twice, and the American Swimming Coaches Association "Coach of the Year" in 1985.
This well-loved and respected coach does not limit his coaching skills to instilling determination and drive into his champions. Thornton's California Program is an environment which utilizes innovative, advanced techniques which focus on mental preparation and the use of strength training equipment, integrated with computers to improve speed and acceleration. These techniques, developed by Nort, have been used by coaches and swimmers worldwide to enhance the quality of training.
His international contribution to swimming has created over 28 Olympic swimmers, twelve of them winning medals. All told, Thornton's swimmers have won a total of 24 medals, with a breakdown of eleven gold medals, eight silver medals and five bronze medals in Olympic competition. They include such famous names as sprinter Matt Biondi (USA); backstroker Peter Rocca (USA); freestylers: Pelle Holmertz, Bengt Baron, Par Arvidsson, and Thomas Lejdstrom, all of Sweden; Graham Smith of Canada; and, John Mykkenon and Dave Wilson of the USA. World record holders include Peter Szmidt of Canada in the 400m free and Par Arvidsson in the 100m fly; and Matt Biondi in the 50 and 100m freestyles, who also won eight Olympic gold medals from three Olympic Games. His swimmers have won four gold, three silver and two bronze medals in the World Championship Games in 1978, 1986 and 1991.
Coach Thornton resides in California with his wife, Carla, and three children and continues to produce outstanding athletes at the University of California, Berkeley.