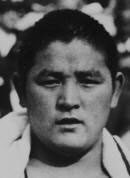 Noboru Terada (JPN)
Honor Pioneer Swimmer (1994)
The information on this page was written the year of their induction.
FOR THE RECORD: 1936 OLYMPIC GAMES: gold (1500m freestyle); 1 JAPANESE NATIONAL CHAMPIONSHIP title: (1500m freestyle).
In the 1930s and 1940s, distance freestyle was dominated by Japanese high school boys swimming a flat half arm stroke pull with an emphasis on a big fast leg kick.
In 1936, the Olympic 1500 meter (metric mile) in Berlin was won by Noboru Terada by ten seconds over Jack Medica, long time king of the American middle distance men. Actually Terada had swum out of the pack during the Japanese Olympic Trials in Tokyo, and he just kept on going to Berlin.
The men he beat at home included Hiroshi Negami, Shumpei Uto, Tomkatsu Amann and Kuoso Kitamura, all of whom had been flirting with the world record. In beating Kitamura, Terada had polished off the Japanese folk hero of the '32 Games where Kitamura, at 14, became the youngest man to ever win an Olympic swimming race.
Noboru Terada stands high among the Japanese vanguard of world record 1500 meter men, starting in 1932 with Kitamura and extending into the 1950s with Hironoshin Furuhashi and Shiro Hashizume. We honor the outstanding pre-war metric miler, 1936 Olympic gold medalist, Japan's Noboru Terada.